Theirs is a world of struggle for survival. They are school children; yet, skip classes to toil in the ocean, rivers and the seashores to make money to pay for their education. Taiwo Adebulu writes about the challenges of these children as they strive to fulfil their dreams against all odds.
With a heavily patched fishing net strapped to his shoulder, 13-year-old Timilehin Mebawondu strolls through the labyrinth of fractured wooden bridges connecting the swampy channels to the river. His 12-year-old bosom friend Kehinde Ayantuga waits at the wharf with a bucket of baits, rod and floats for the day's fishing expedition in the salty tributaries.
Dangling aloof the water surface is the broken and battered boat bequeathed them by a benefactor after they dropped out of school while in primary 4. They had met in the same class at the First African Church Mission (FACM) Primary School, Odofado, a small coastal community in Ilaje local government area of Ondo state.
Neither Timilehin nor Kehinde can remember their number among the plethora of children sired by their fathers to different wives. While Timilehin fumbles between eight or nine with uncertainty on the number of children born by his own mother, Kehinde hurriedly counts about 16 children that have sprung from his father's loins – as much as he can remember.
With so many children to take care of, the responsibility of their welfare falls on their fragile shoulders. Their inability to pay for the examination fees worsens the matter as they drop out of school to fend for themselves. United by a common fate, they became partners scavenging rivulets and rivers to survive. While most of their colleagues strive to cope with schooling and fishing, Timilehin and Kehinde are unsure when they'd return to school.
EVERYTHING DEPENDS ON WATER
Just like other coastal communities around Odofado, the lives of the people revolve around fishing in the Atlantic Ocean and adjoining rivers. They live on water, trade on water, survive on water and defecate on water. Houses are built in clusters with wooden planks and corrugated roofing sheets.
Most households are large in nature. As early as 20, it's fashionable for most boys to have at least two wives. No elaborate wedding is needed. To get a wife, all you need to do is to impregnate a girl; inform your family and they follow you to intimate the girl's father of the development where you end up paying a bride price of a bottle of Schnapps and a plate of kolanuts.
Court wedding is non-existent because there are no courts of law around. And by the way, such white wedding is anathema because it limits the numbers of women that adorn a man's harem. Hence, you'd see a household of a man with five wives and dozens of children with approximate heights such that it would take a genius in calculus and geometry to tell the age difference.
While a stranger in this community is puzzled over the sweet sensation their men derive in producing so much children with little or no care, Segun Tomomewo who has 'just' five wives and 13 children, has a precise response.
"As you can see, this is a fishing community. Our main business is fishing which we do from morning till night. We need children that will help us out. It is the number of children you have that will determine how successful you are as a fishermen," he said.
As the male ones follow you to the sea, the females and their mothers smoke the fish and crayfish and sell them at the market."
When asked if he uses contraceptives or has any plan to stop producing more children, he frowned, "Why? I'm an apostle. I can't stop God's work. Children are the heritage of the lord. Aside attending school, I've trained all of them as excellent fishermen. So, they cannot lack in life."
This, however, lends credence to a recent United Nation report where Nigeria is expected to rank as third most populous country in the world by 2050 with a growth rate of 54.8 percent and a population of 391.2 million against the current 191.8 million.
EDUCATION IS SECONDARY
Like Tomomewo, the best legacy a man in their clime can bequeath his children are his fishing tackle, boats and wives, while education is secondary. For some parents, it's not their responsibility to pay for the children's school fees. They have to work for it. Thus, it has become a custom for most school children in Odofado to work as fishermen while attending school.
According to a survey by the Federal Office of Statistics (FOS), more than 15 million Nigerian children under the age of 14 are working to help pay for the cost of going to school, while 6 million of the working children were not in school at all. The survey also revealed that nearly 1 million of these children had been forced to drop out of school due to poverty or parent's demand for them to work to increase the income of the family.
However, there are two schools in Odofado: FACM Primary School, a public school and Peace and Joy Group of Schools, a private educational institution. A visit to FACM Primary School reveals a school in partial decay and in need of urgent rescue. The two buildings are fast giving in to the invading body of water below. With a handful of pupils at 11am in the morning, the teachers conduct the pupils around the classrooms for partial reconstruction before learning begins. At 2pm, the pupils file out towards the seashore awaiting the fishermen from the sea for the day's business.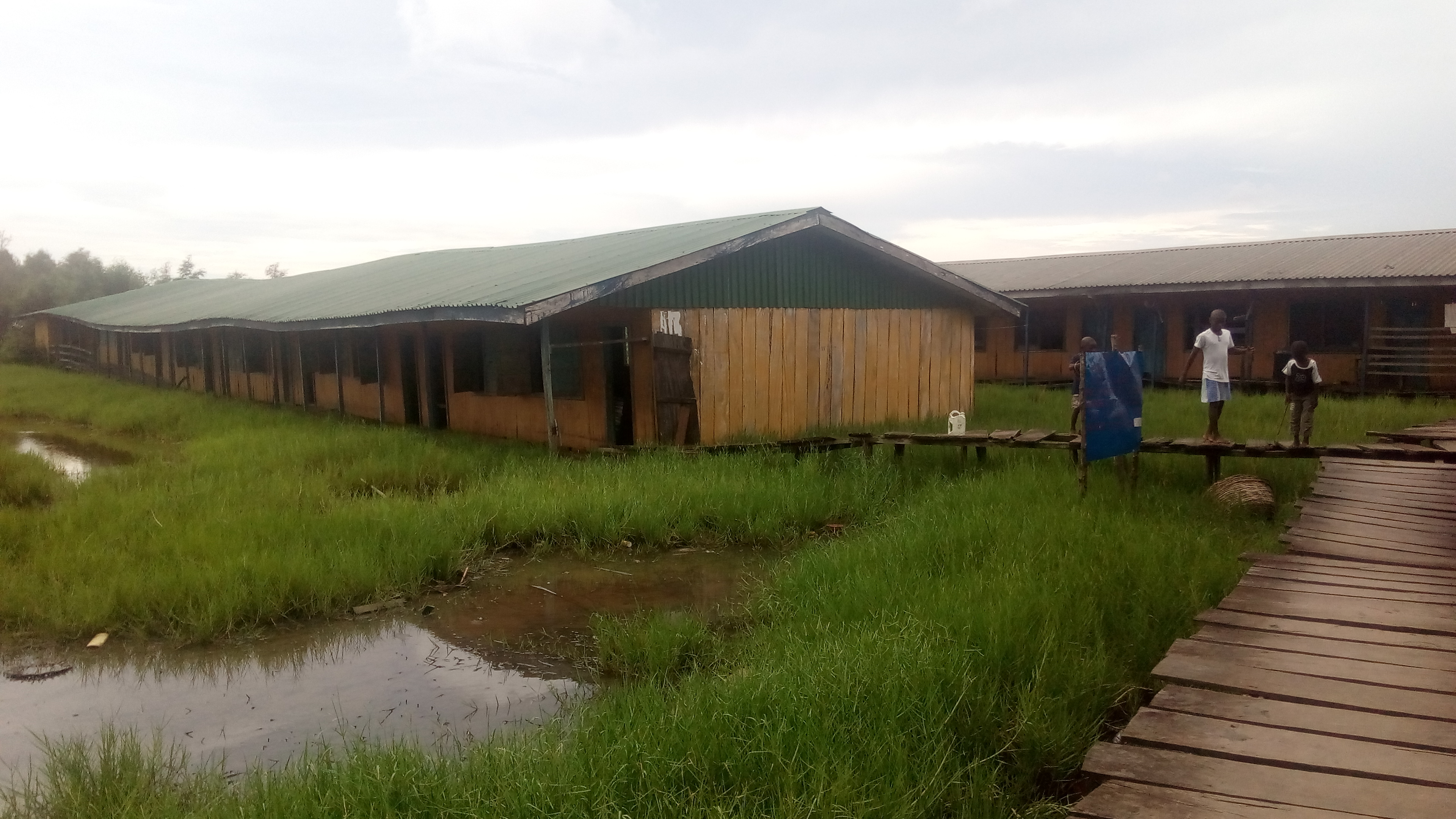 For a child whose father or relatives are not on the sea that day, he or she would have to help the fishermen with menial jobs in return for money or a bowl of fish which he may decide to sell. Such cheap labour is always needed when the fishermen arrive from the sea. So, they work every day of the week except on Sunday when the fishermen don't go to the sea.
FISHING AFFECTING PUPILS' PERFORMANCE
At the Peace and Joy Group of Schools, the environment is more conducive than its public counterpart. But the common factor between the two schools is the low attendance. According to Francis Sanumi, headmaster of FACM Primary School, the low rate in attendance is not the pupils' fault.
"Sometimes, they will report to the school to take three or four weeks off to fish in the ocean with their parents," he said.
"We can't stop them because that is how they sustain themselves. The only problem is when they resume to school after weeks and everything you say in class sounds like magic. That is why we grapple with poor results in their performances."
Sixteen-year-old David Omomowo, 15th out of twenty-nine children, nurses the ambition of becoming a lawyer in the future. Yet, he spends about three days out of school to help his father in the sea. Sometimes, he takes a whole week off.
"That is the only way I can help myself because I pay for my school fees," he said.
"I have to assist my father and make some money for myself. There was a day our boat sank in the middle of the sea and we swam until we were luckily rescued by another boat. I wanted to quit after that close shave with death but I knew my education will suffer."
OBSTACLE IN THE PATH OF A FUTURE LAWYER?
For Damilola Megbatonebi, an 18-year-old SS 2 student, it has become a normal routine for her to quickly return home from school to smoke the fresh crayfish her father brings from the sea. With a late mother and sixteen children churned out by her father, she works with one of her step mothers to raise money for her tuition fees.
Although she stated that she doesn't have time to read because she works from 2pm to 6pm which affected her Physics and Chemistry result the previous term, the major problem that may hinder her dream of becoming a medical doctor is the recent news from her father that she might be getting married soon.
"But that is not possible. I am going to study hard till I achieve my dreams," she said.
STUDENTS/PARENTS CAN'T AFFORD FEES
Oluwatobi Lagbayi, proprietor of Peace and Joy Group of Schools, said the school charges N5,000 per term yet the students find it hard to pay.
"So, we collect N1,000 three weeks after resumption and the rest are paid in instalments in subsequent weeks. Since most of the students have to skip school to go to the sea before they get money for their school fees, we have to make it easy for them so that they won't run away."
While commenting on the student's performance, Kehinde Adetuyi, a Biology teacher at Peace and Joy Group of Schools said, "Most of them are not really performing up to expectation. Yet, some of them still perform excellently despite the fact that they spend some days out of school.
"The major challenge with them is a lack of exposure. About 90% of them have not seen a car before except on television. Nevertheless, they buy textbooks from the money they make and create some time to read. In fact, they believe that the fish they eat constantly aid their intelligence."
This might not be far from the truth as fish is known to be rich in Omega-3 fats which are vital for healthy brain development.
Anytime Israel Mesogboriwon, who is the last of twenty-nine children in his family, is not fishing with his father, he buys large crayfish from fishermen after school to sell. This he does from 2pm to 7pm. For him, he has to keep the business going because it is profitable even though he hardly finds time to read.
His friend Taiwo Ayelaje pointed out that since they do not fish with their parents in the sea for some days, they have to engage in crayfish business after school hours. Daily, they make about N2,500 to N4000 depending on the quantity sold and save N1,000 with thrift collectors while the balance is for their upkeep. Taiwo said, "Just like Israel, I'm twenty-seven out of twenty-nine children in my family. So, I always need money to help myself."
TIME TO BOOZE
With enough money to toy with having toiled the whole day from classroom to the seashores, the daring ones among the children do not leave the enjoyment of the night to their elderly ones. They also storm Omega Hotel where there are different sizes of gaudy ladies for every man.
As the loud speakers boom, the boys booze and groove to the lyrics of Davido's latest hit "If", constantly roaring 'my money my body na your own o baby, thirty billion for the account o'. For their level, there are the babies of the night in their skimpy little dresses parading at the corner of the bar.
Government officials were unwilling to comment on the hardship children face in the quest to get education. When this reporter visited the office of the State Universal Basic Education Board (SUBEB), Ilaje local government education authority office, he met the director of education, Taiwo Ayegbe, who said he wasn't authorised to speak on the matter.
He directed the reporter to Olufunmilayo Oni, the state executive secretary, who also refused to speak on the matter even after text messages were sent to his telephone line. Steve Awosika, permanent secretary, Ondo state ministry of education, also refused to comment when he was contacted.
However, an education inspector at the local government spoke on the condition of anonymity.
"There is little we can do about the condition of those children. It has become a tradition over there. The problem is the parents who don't cooperate with us," he said.
"They are meant to pay one hundred and fifty naira per term as parents teachers association (PTA) levy and for their report cards, yet most of the parents do not respond. They prefer to take the children to the sea rather than coming to school. About 90 per cent of them do not come to school until the third week of resumption.
"After the examination, they don't come to school again. They resume back to fishing. This is largely due to the bad economy. There was once a case of a parent who came to a school to take his children out to follow him to the sea. He told the headmaster that they'd earn more money as fishermen than being a graduate who hunts for job where they are paid peanuts.
"So, you can't put the blame on us. Moreover, we inspectors have not been mobilised to see things for ourselves. There is no vote or allocation for inspection. We spend our personal money to visit the schools. No money to fuel the board's boat to visit the riverine areas while the Hilux van is deteriorating in front of the office. Mind you, there are ninety-seven primary schools in the local government. So, it has not been easy."
The UNICEF report on basic education in Nigeria which shows that 30% of pupils drop out of school due to child labour and economic hardship with only 54% transit to junior school, the likes of Timilehin and Kehinde may not be lucky enough to enjoy a promising future as they wake up every morning struggling to repair their broken boat to face the deep rivers of life.
(The Cable )