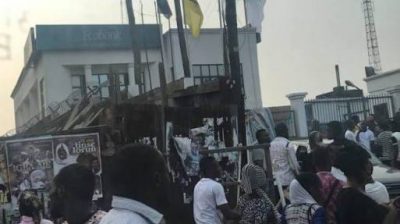 Kwara Must Change, an advocacy group, has released a list of some victims of the robbery attack in Offa, Kwara state.
On April 5, some armed robbers attacked five commercial banks in the community, killing at least 17 persons, including police officers.
In a statement on Friday, the group identified 14 of the victims to include of 10 police officers and four civilians, while promising to update the list as more details emerge.
The listed victims are:
Jamiu Alawode, a 40-year-old old banker at StockcorpMicro-finance Bank in Offa
Makinde Grace, daughter of James Oyeyemi, a retired police inspector
Pelemo Ayesanmi, an assistant superintendent of police
Kuburat Salam
Ismaila Jimoh, a member of the association of unity vigilantes, Offa unity headquarters.
Oyinlola Shakirat
Oke Kayode, a police inspector
Danjuma Yusuf, police inspector
Babawale Balikisu, a sergeant
Kolawole Mustapha, a sergeant
Abimbola Adedokun, a sergeant
Isha Monday, a sergeant
Doyum Nakimbo, a sergeant
Officer Abel, popularly called baba Offa
The police had announced the arrest of 19 suspects in relation to the attack. (The Cable)