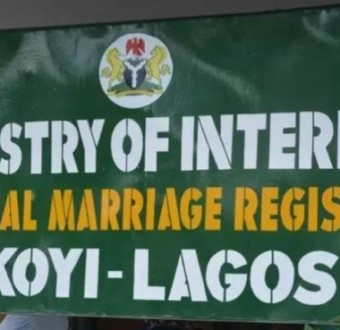 The Lagos State Government has secured a court injunction restraining the Federal Government's owned Ikoyi Registry from conducting marriages.
The state government in the court paper filed before the Lagos High Court, argued that it was unconstitutional for the Federal Government owned registry to carry out marriage rites when it is legally the right of State Government and the Local Governments.
The judgment delivered by Professor Chuka Aunstine Obiozor with the reference number SUIT NO: FHC/L/CS/1760/16 and which took effect on Monday 30th April 2018, reaffirmed that all the marriage registries in the Local Government and Local Council Development Areas in Lagos are the authentic and legally-binding government division established to carry out such function in the state.
Addressing a Press Conference on the court judgment today Thursday May 17th, the Commissioner for Local Government and Community Affairs, Muslim Folami, said the Ministry was in the process of officially communicating the development to the various embassies in the State. He added that the decision of the court was supreme and was legally binding on all institutions in the state, the embassies inclusive.
The commissioner went on to say that the judgment would undoubtedly put a stop to the seeming perception that weddings that take place in Ikoyi registry are superior.
"We are going to use the five divisions across the state to sensitize our people and inform them about this latest development. From Epe to Ikorodu, Badagry, Ikeja and Lagos Island. The sensitization walk which we embarked on today is also a way of creating awareness and letting the people know of this latest development" he said
Also speaking at the press conference, the President for Marriage Registrars in all LGs/LCDAs in Lagos state, Deji Sokeye, said the illegal use of power by the Ikoyi Registry had seriously and negatively affected the revenue drive of the various Councils in the State. Sokeye recalled that a similar judgement was delivered in favour of the state government in 2004 but was disregarded by the federal government.