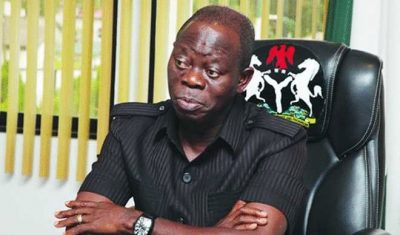 Former Governor Adams Oshiomhole of Edo State yesterday stepped forward to vie for the post of the national chairman of the ruling the All Progressives Congress (APC).
The position is guaranteed to be his because he is President Muhammadu Buhari's candidate. The president has also asked party bigwigs to line up behind the former governor.
Oshiomhole, a former combative labour leader, is viewed in the president's camp as a game changer in contrast to Chief John Odigie- Oyegun, the current chairman who is regarded as a die in the wood bureaucrat.
With Oshiomhole's formal declaration and coupled with the fact that there is no other serious contender it is clear that he will coast to victory at the national convention of the party on June 23.
Oshiomhole, speaking at the event at the TRANSCOP Hilton in Abuja, paid glowing tribute to President Muhammadu Buhari, who he said stood out among others because he is not a thief.
He said, "I want to assure Nigerians that I believe with a new leadership of the APC and with our president whom I believe is ever determined, no matter what anybody wants to say… I am confident that Nigerians are ready to progress and our party is ready to mend where we have made mistakes, and reenergise and confront the problems that confront our country and bearing in mind that the entire black world look unto us. We have what it takes to provide that leadership that Africa will be proud of and we shall be a reference point." The former president of the Nigeria Labour Congress (NLC), who said that nobody could use him if elected as the APC national chairman.
"I want to be of help. I want to be of use to all those who need it. But I am not capable of being used. I believe that this needs to be clarified because there is so much suspicion in our political space. People fight often for things they are not even quite sure of what they think they are.
"They are fuelled and sustained by suspicion. The way to eliminate suspicion is to put on the table what is on the table. What is under the table, keep under the table until it moves to the top of the table."
The former governor, who hailed the contributions of the party's founding leaders, including Chief Bisi Akande, the first interim national chairman and the incumbent national chairman, Chief John Odigie-Oyegun, stated that the decision to run for the office was based on the point that democracy worked better when "new bloods are given opportunity."
Oshiomhole promised that if elected he would rebuild the APC's destroyed data centre that housed membership register, promote healthy relationship between the executive and the legislative arms of government, and encourage politics of inclusion by holding of regular meetings of the party organs.
"My dear party members, my commitment when elected is to provide leadership that will be firm, fair, just, transparent, faithful, and loyal to the members of the party. In other words, I belong to all members and leaders of the party without bias," he said.
He's our project- Okorocha
In his goodwill message, the chairman of the Progressives Governors Forum and Governor of Imo State, Rochas Okorocha, said the chairmanship aspiration of Oshiomhole is the project of the APC governors.
Okorocha, who claimed that he was not officially invited to the occasion but attended the event when he heard about it, said Oshiomhole was being supported because President Buhari needed a personality like him.
"I have no doubt in my mind that Oshiomhole when elected will show the way. Oshiomhole's coming in as national chairman of APC is bad news to other political parties.
"Among other things I think Oshiomhole will address is that our party has begun to play the same kind of politics like PDP. All of a sudden, we have started derailing and playing the PDP kind of politics. This started by some of those people who found themselves in political office especially, appointment, who did not win their booths and wards.
"Adams, your first assignment when you become the national chairman of the party is to ensure and cancel that principle of monkey de work, baboon de chop."
"And I know Oshiomhole is a no nonsense man, he will stand forthright, he will face them both in debate, action, physical, mental, moral, and spiritual realm. He can face the opposition. But I don't know about the spiritual aspect.
"Buhari is not just a president; Buhari is a leader. Why we are supporting Oshiomhole is to see a strong party chairman that will be behind him.
"You must as a matter of urgency tell everybody that Buhari should be supported. All my colleagues, the governors of APC, Oshiomhole is our project. He understands us, we understand him. I came in here to show my support and endorsement. PDP is making so much noise now and they need to be silenced, and the only silencer is Adams Oshiomhole," he said.
Also speaking, Senator Abu Ibrahim (APC, Katsina South), said he was one of those urging Oshiomhole to contest because he had the experience, capacity and the gut capable of making him to lead Nigeria to greatness and prosperity.
The Chief Whip of the Senate, Sen. Olusola Adeyeye, said the APC could do a better job under the former labour leader.
Trouble lurks
Findings by the Daily Trust reveal that Oshiomhole's emergence as APC national chairman would not automatically solve the problems of the party because there is a raging debate on the status of other members of the NWC.
Besides, sources said most of the governors that wanted Oyegun to continue until the general elections in 2019 have not given up.
"Oyegun had conceded a lot of advantages for the governors to control the party in their states and any attempt by Oshiomhole to override would be disastrous," one of the sources said.
Another source said, "Oshiomhole is not a magician and he cannot succeed alone, he needs other members in the NWC to smoothly take the party to the Promised Land.
"But I want to assure you that while many of the NWC members would want to retain their seats, a lot of them are not in the good books of their governors and they would be changed.
"In fact, one of the issues the governors raised with Buhari is that he would allow them to nominate other NWC members allocated to their zones or states; this is in line with the recommendation of Governor Simon Lalong committee that said the status quo as per positions be retained," he said.
The Oshiomhole's declaration ceremony was attended by Governor Godwin Obaseki of Edo State, his deputy, Philip Shuaibu, the State House of Assembly Speaker, Kabiru Ajoto, the APC National Vice Chairman, South-South, Eta Hilliard, the NLC President, Comrade Ayuba Wabba, Sen. Ita Enang, Mr Osita Okechukwu, Gen. Lawrence Onoja (rtd), ex- GovernorTimipre Sylva, and Sen. Magnus Abe.
Others were Sen. Ovie Omo-Agege, Olorogun O'tega Emerhor, Dr Cairo Ojougboh, Chief Frank Kokori, Sen. Uche Ekwenife, Sen. Jonathan Zwingina, Sen. Abba Aji, Dr Ezekiel Izuogu, Prof. Julius Ihonvbere, Sen. Domingo Obende, Sen. Francis Alimikhena, Sen. John James Akpanudoedehe, Chibudom Nwuche, and James Faleke among other notable dignitaries. (Daily Trust )