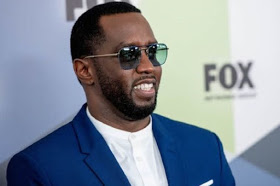 Rapper Sean "Diddy" Combs, also known by his stage names Puff Daddy and P Diddy, has been revealed as the buyer of a Kerry James Marshall painting that fetched $21.1m (£15.6m) at auction.
The sum is believed to be the most ever paid for a work by a living African-American artist. The painting, Past Times, depicts black Americans picnicking, waterskiing and listening to music in a Chicago park.
It measures up at an imposing four metres (13ft) wide. Jack Shainman, Marshall's gallerist and art dealer, confirmed the identity of the new owner. "I know that this work has found a home in a collection with purpose and an eye toward preserving legacy – that of Sean Combs – and that means a lot," he told the New York Times.
Diddy went to Sotheby's auction house to view the picture, according to the paper.