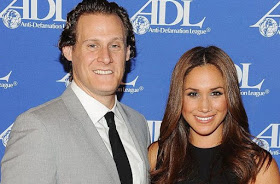 Following Meghan Markle and Prince Harry's wedding, there has been increased interest in her first husband, movie producer Trevor Engelson.
From who he is to what he does and details on Meghan's first marriage, fans have been wanting to know all about the Duchess Of Sussex's first husband.
Meghan reportedly ended her marriage to Trevor by posting her wedding rings back to him in the post, according to The Sun.
It saved her flying from Toronto, Canada – where she was living while she filmed hit US TV drama Suits, to Los Angeles – where she had shared a bungalow with Engelson.
It's been widely reported that Trevor was left 'devastated' by his now former wife's actions; he was apparently shell-shocked when she ended their marriage after two years.
Trevor was born on October 23 1976 in New York City. At 41, he is five years older than Meghan.
Trevor met Meghan in 2004 and the pair became engaged six years later in 2010. They went on to marry on September 10 2011 at the Jamaica Inn in Ocho Rios, Jamaica.
According to insiders, it was the strain of a long-distance relationship – with Meghan working in Toronto, Canada on Suits while Trevor was in Los Angeles – that saw the end of their nine-year relationship.
While Meghan's previous maid of honour has since claimed that her divorce 'empowered' Meghan, it seems it hit Trevor hard.
And the reported way in which she ended their marriage via the postal system, by all accounts, left him feeling even worse.
'It was such a bolt from the blue,' royal biographer Andrew Morton writes in his new book – A Hollywood Princess – on Ms Markle.
'Even after five years he can barely contain his anger,' Morton adds of Engelson, reporting her ex and remarked: 'I have zero to say about her.'