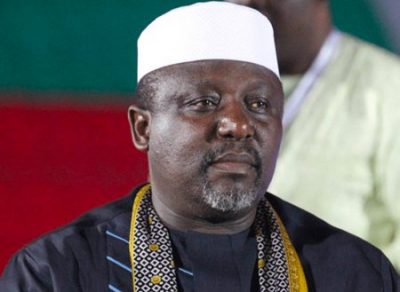 Imo State governor, Rochas Okorocha, on Wednesday insisted that he is still in control of the All Progressives Congress (APC) in the state, despite the gang up against him by the 'Coalition Group', a pressure group within the state chapter of the party.
The Imo governor said that the plot by members of the group to manipulate the party congresses in the state, will amount to naught, "as the APC constitution abhors such brazen criminality".
He pointed out that despite the claim by the 'Coalition Group' of concluding the Congresses in the state, the APC is yet to "conduct any Congress in the state".
The governor blamed the current crisis in the party on weak leadership, stating that, "yes we have some issues in the APC and this is because the leadership of the party is weak. The National Chairman of the party, Odigie Oyegun and the National Organizing Secretary, Osita Izunaso are responsible for the crisis in the state chapter of the party.
"Because they wanted their tenure of office to be elongated and I opposed it, they decided to give the sensitive materials for the Congresses in the state to some people to go and write names in the bush. That is not the spirit of the APC, most of them are master election riggers in the PDP and they brought that mentality into the APC but they will soon leave the party".
The governor cautioned against voting some members of the group nursing governorship ambition into office, adding that, "those fighting me today are not happy because they no more have access to the coffers of the state, they have been starved of public funds for the last seven years and they are desperate to return so that they can resume the business of squandering the state resources but we will not allow them".
He continued that, "People like Senator Ifeanyi Araraume, Hope Uzodinma and Emeka Ihedioha are simply no go area, there only reason for wanting to become governor is to loot the resources of the state, like they have done in the past". (The Nation)