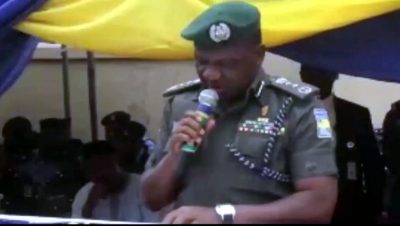 The Inspector-General of Police, Ibrahim Idris, has denied a viral video that shows him struggling to read from a prepared speech.

Mr Idris was in Kano on Monday to commission the Force Technical Intelligence Unit.

A footage taken as the police chief was reading from a prepared speech at the event showed him struggling to pronounce words. It surfaced on the Internet Wednesday afternoon.

The video was "doctored', Mr Idris said in a live interaction with Nigerians on Twitter Thursday afternoon.

The video has seen Mr Idris being humiliated for his supposed poor articulation and incoherence.

Some of his supporters have deemed the video manipulated with speech-altering software, but far more people believe that the video was appropriate.

Critics challenged the police chief to produce another copy that was not tampered with to disprove the one in circulation.

Joe Abah, a former head of the Bureau of Public Service Reforms, said Mr Idris might be suffering dyslexia. But this claim was also countered by critics, who said the symptoms showed by the IGP were not typical of dyslexic patients.

PREMIUM TIMES sent several requests to the police to produce what they deemed a genuine version of the video but received no response as at Thursday night.