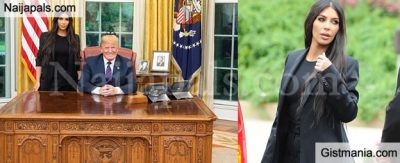 Donald Trump posed for a photo with Kim Kardashian in the Oval Office after a 'great meeting' discussing prison reform.
The reality star spent an hour at the White House on Wednesday in a meeting with the president's son-in-law Jared Kushner that also included a conversation with Trump about a first-time drug offender and great-grandmother serving a life sentence in prison.
Lawyer Brittany Barnett told DailyMail.com that Kardashian wanted ask President Trump to grant Alice Johnson clemency in an anticipated face-to-face.
'Today's her birthday, so no greater gift than freedom on her birthday,' Barnett said of her 63-year-old client petitioning for a pardon.
Kardashian had a confirmed meeting on prison reform with Jared Kushner, a senior White House adviser. Barnett said it was her 'hope' that Kardashian would also have an opportunity to plead Johnson's case to the president.
After the meeting, Kardashian left the White House and headed for Jared Kushner and Ivanka Trump's DC
Exclusive photos taken by DailyMail.com show the reality star walking inside and laughing with the First Daughter and her husband.