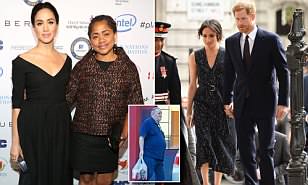 Meghan Markle's father has changed his mind and said he does want to attend her wedding, but his attendance depends on if doctors will allow him to fly to England.
Thomas Markle astonishingly pulled out of the royal wedding after the widespread backlash of the faked photographs row.
The bride-to-be is said to have pleaded with her father, who lives a reclusive life in Mexico, to change his mind.
The 73-year-old said Meghan tried calling him on Monday, but he wasn't near his phone. She later sent a text saying she loved him and was concerned about his health.
Now it seems that he is considering making the trip, saying: 'I hate the idea of missing one of the greatest moments in history and walking my daughter down the aisle.'
However, Mr Markle said his attendance depends on if doctors will allow him to make the trip across the pond after suffering a heart attack a week ago.
Before changing his mind, Thomas said he believed his ex-wife Doria Ragland would be a 'good choice' to give their daughter away at St George's Chapel, Windsor, after his shock decision not to fly to the UK.
The troubled 73-year-old wanted to stay in Mexico following reports that he colluded with a paparazzi photographer to stage a series of pictures in the run-up to the wedding and claims to have suffered a heart attack.
Meghan's half-sister Samantha Markle, whose father has partially her for his illness, said today: 'I spoke to him early in the morning and he was quite depressed'.
Doria is about to fly into the UK from Los Angeles to support her daughter and is now the clear favourite to walk her down the aisle in her father's absence.
Prince Charles is 2/1 with the bookies to step in while Prince William is 5/1 to take Meghan into St George's before starting his duties as Harry's best man.
There have also been a flurry of bets on Meghan walking down the aisle alone.