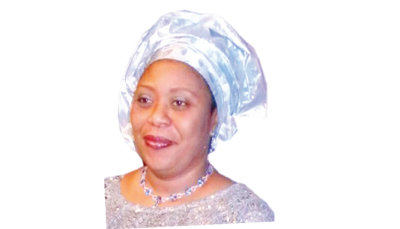 Barr (Mrs.) Toke Benson-Awoyinka is the Assistant Legal Adviser of the Lagos State All Progressives Congress (APC). In this interview with TEMITOPE OGUNBANKE, she speaks on her interest in politics and women participation in politics, among other issues
As a lawyer, why did you pick interest in politics?
Politics is a day-to-day occurrence in life. Politics is something you do without even knowing that you are actively involved in it. Every aspect of life is political. Living in your home and managing it is political. In school, politics is practiced. In fact, every aspect of life involves politics because it involves dealing with people.
Do you think Nigerian women have been given enough opportunity in politics and governance?
Definitely not! Presently in the Lagos State House of Assembly, we don't have up to 10 female legislators. In the House of Representatives, the All Progressives Congress (APC) in Lagos State does not have any female member. We only have a female senator in the person of Senator Oluremi Tinubu, who is doing efficiently well. But overall, women have been relegated to women's leadership position within the party; that is women leaders in the executives of the various tiers of the party; from ward to the local government areas, state and national levels. I believe that women should be accommodated more to enable us show our worth. Wherever you find a woman, everything is in good shape. In Lagos State, I believe that more women should be accommodated in politics.
In many countries, including some Africa nations, women have been elected as presidents. Do you see the possibility of a woman being elected as a governor in Nigeria?
Of course, it is possible and I believe Lagos is going to lead the way for other states.
What gave you that confidence, considering that the highest position a female has ever occupied throughelection is the position of a deputy governor?
Lagos is very cosmopolitan in nature and it is the most progressive of all the states. And if you look at it; in the last few years, we always had female deputy governors. Our women are educated and enlightened. They know what they want and they are going places in the world. In Lagos, most of women who have served in various leadership positions have always excelled. So, I wouldn't be surprised if after the second tenure of Governor Akinwunmi Ambode, Lagos gets a female governor.
Do you think Nigeria is ripe for female governor, considering the fact that tradition and culture of some societies do not give room for women to lead the men?
When we go to vote; who do we see most on the queues? The women! When we go to campaigns, who do you see there? The women! We are running organisations and parastatals. If we can do that, we are ripe for governorship.
One of the things that scare women away from politics is the issue of sexual harassment. Do you think a woman can succeed in politics without sexual harassment?
I think it is just another plot to keep the women out of politics. There is sexual harassment in all aspects of life and shouldn't be peculiar with politics. A woman who is sure of herself and who knows what it takes does not need a man to excel in politics. I will say politics is like you being in employment in an organisation; you have to go through various tiers and climb various stairs. If you are willing to climb those stairs, take your time in everything you do, you will definitely get to the top. You don't need a man to pop you up in politics. Right now, we are thinking of how we are going to mentor female children in Nigeria to get more involved in politics.
Don't you think the issue of finance is another hindrance to women participation in politics?
The issue of finance is a hindrance, but nobody goes into politics with a load of cash and says I am going to run for governor and say it is going to be by my money. So, if you put finance first, you are not going to do anything. It is like you saying you want to go into business or trade; you need to first do the logistics of that business by writing out what you want for the trade and how you are going to go about the trade. Money is always the last part of it. There are so many organisations that are trying to push women into leadership roles and I can tell you that today, if a woman, who has gone through the ranks of the party says I want to run for governorship of Lagos State, she will get support.
If you want lawyers who are Senior Advocates of Nigeria, we are going to give it to you. If you want architects, we are going to give it to you within a twinkle of an eye. So, finance should not be a hindrance in politics.
What is your take on the clamour for 35per cent women representation in politics and governance?
There are more women in Nigeria to fill 50 per cent; quality and educated women. There shouldn't even be a barrier. If you say 35 per cent, it is like you are even putting a cap on it. There shouldn't be a cap on how many women that are going to be there. There should be a level playing field. (New Telegraph)