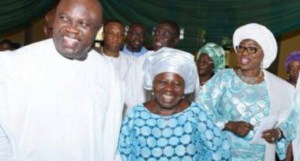 * It Was A Party To Remember…
She has gone through the motions of life with equanimity and grace. Through the shrill clang of trials and pain, she emerged victorious as the rough hewn ore returns finer, like burnished steel from a steel forge.
Thus as you read, Madam Christianah Ambode, the mother of Governor Akinwunmi Ambodea, evolves as worthy inspiration to generations of family and friends alike.
Some days ago, her son, the governor of Lagos State and his siblings threw a classy party at the Haven, GRA Ikeja, to celebrate as she clocked 85.
Mama Ambode is no doubt a pillar of trust, hope, compassion and support to everyone around her, particularly her family members. She never shies from giving them crucial and beneficial moral support in the most trying and pleasant moments. She is undoubtedly their guiding light through the wilderness of life and their interminable gust of calming wind on life's stormy seas.
Yes, if Ambode would define his mother, he would claim that the wall of her heart is lined with gold and silver; he would say that she lives by a moral code that dwarfed old England's claim to chivalry and honour. There are too many ways to describe the governor's mother, and even the best couched adjectives couldn't do justice to the task.