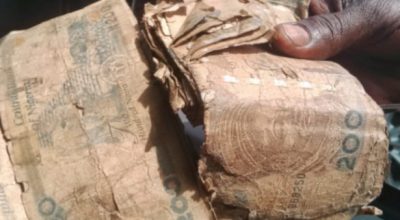 The Central Bank of Nigeria (CBN) says customers should demand new naira notes from their respective banks and reject dirty ones.
Speaking in an interview with NAN in Lagos on Thursday, Isaac Okorafor, CBN spokesman, said commercial banks are sabotaging its effort in replacing mutilated notes with new ones.
The bank made similar claims in February.
Okorafor said the apex bank is aware of the development and has taken several measures in addressing the issue of mutilated notes in the circulation.
According to him, one of the steps taken to mop up the mutilated notes from the system was reduction in the amount CBN charges banks for sorting the dirty notes for clean ones from N12,000 to N1,000 per box.
Okorafor said the reduction in charges for the commercial banks which lasted for three months from January 2 to March 28 was to encourage them to bring back more dirty notes.
He said the charges were raised to N2,000 per box after the March 28 deadline.
The director said the opportunity was limited to lower denomination naira notes comprising N50, N20 N10 notes.
He said the bank has adopted another option of withdrawing the unfit notes from circulations rather than depending on the commercial banks.
The bank is now engaging various market associations to encourage traders change genuine dirty notes for new ones at no cost to the trader.
"The bank has already taken the new measure to Kano, Kaduna and Abuja and also intends to bring it to the south," he said.
He appealed to Nigerians to handle the national currency with care as it was a symbol of identity and value.