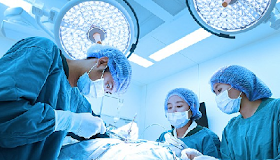 They have started in England o! Women are having 'virginity-restoring' operations on the NHS at a cost of £1,000 a time, figures reveal.
Hospitals have admitted to carrying out 109 reconstructive procedures between 2007 and 2017.
But the true number is likely to be far higher as only nine hospitals bothered to supply figures.
According to relationship counsellor Louise Van der Velde, who practices on London's Harley Street, many women want to repeat losing their virginity after being disappointed the first time.
She adds some want to have that experience with their husbands 'by being as pure as possible again', while religious women may feel 'overwhelmed' by sexual guilt.
The half-hour operation involves the hymen being stitched or reconstructed.
Ms Van der Velde said: 'A lot of people have a bad experience for their first time.
'Often it's not what it's meant to be, it's meant to be a sacred thing and you never forget losing it.
'Maybe because people have been let down by that and it doesn't end up being what they want, they want to do it again.
'Maybe they want to share it with their husbands by being as pure as possible again.'