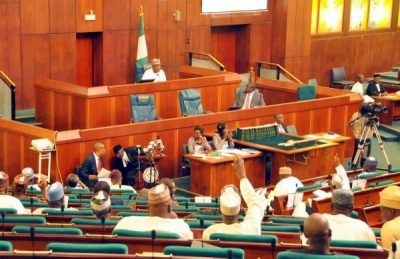 Members of the House of Representatives have defended the decision of the National Assembly to raise its budget from the initial N125 billion to N139.5 billion in 2018.
In their explanation, the lawmakers merely claimed the budget figure was small compared to past years.
They failed to provide specific needs that necessitated the multibillion naira raise.
This is coming less than 24 hours after National Assembly leadership spoke on the concerns raised by President Muhammadu Buhari on the manipulation of the 2018 budget estimates sent to the lawmakers.
Mr Buhari on Wednesday signed the N9.1 trillion 2018 appropriation bill into law in his office at Aso Rock Villa, Abuja.
In a statement by the house spokesperson, Abdulrazak Namdas, the lawmakers said the budget of the National Assembly "is still far below the N150 billion in the years before 2015".
"Before 2015, the budget of the National Assembly was N150 billion for several years. It was cut down to N120 billion in 2015 and further down to N115 billion in 2016.
"In 2017, the budget was N125 billion and N139.5 billion in 2018. This means that the budget of the National Assembly is still far below the N150 billion in the years before 2015."
Members of the National Assembly are known for paying themselves billions of naira in illegal allowances they refer to as running cost.
However, the allowances have not been clearly captured in specific budget subheads, meaning they are vaguely inserted into other spending items.
The lawmakers said in their statement that they were "on the same page" with Mr. Buhari in his desire to return the budget cycle to January-December.
"By the provisions of the Fiscal Responsibility Act, 2007, the budget estimates should be with the National Assembly around September of the year."
He said the 2018 budget estimates came behind schedule in November 2017 but was however seen as one of the earliest in recent years.
On the power of appropriation of the National Assembly to alter, make additions, costs or reduce as it may deem necessary, he said the legislature is not expected to be a rubber-stamp by simply approving the Executive proposals and returning the budget to the president.
He said the additions the president complained of in his speech are justifiable.
He also spoke on new projects in budget which the president lamented about.
The president had revealed how the lawmakers "made cuts amounting to 347 billion Naira in the allocations to 4,700 projects submitted to them for consideration and introduced 6,403 projects of their own amounting to 578 billion Naira".
In his explanation, Mr Namdas said they were representatives of the people, hence, "must include projects that will directly affect the common man positively".
"Some of the projects designed by the executive, as high-sounding as their names suggest, do not meet the needs of the common man."
The House expressed their appreciation to President Buhari for signing the 2018 Appropriation bill into law. (Premium Times )