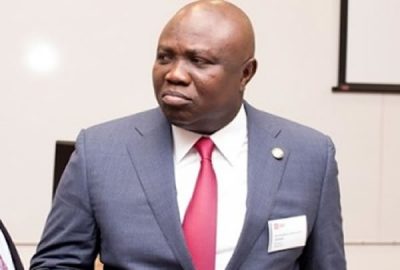 President Muhammadu Buhari has appointed Governor Akinwunmi Ambode of Lagos as a member of the Federal Government delegation to the FIFA 2018 World Cup in Russia.
The Minister of Youth and Sports, Solomon Dalung, made the announcement when he led a delegation of the International Paralympics Committee (IPC) on a visit to the governor.
Dalung said that President Muhammadu Buhari approved Ambode as one of the Federal delegation to lead and represent him and other Nigerians in Russia at the World Cup.
"The president's approval of Ambode as a member of the delegation is borne out of the conviction that he is one of the governors that has invested heavily in sports development.
"Nigeria as a country is in the bid to host an international Paralympic Championships in Lagos, come 2019, and as part of the requirements for qualification.
"The international delegation is in Nigeria to also conduct training and inspect facilities
"The international delegation was sent to Nigeria to conduct training for the leadership of the Nigerian Para Powerlifting Federation (NPPF) and stakeholders on the responsibilities of the hosting rights for the 2019 World Power Paralympics Championship.,'' he said.
Ambode in response praised the president for appointing him as one of the delegates.