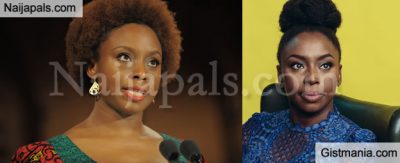 Chimamanda Ngozi Adichie has gotten everybody talking again after she shared her thoughts on chivalry during her latest chat with Trevor Noah on The Daily Show.
The Nigerian writer went on the show to talk about her latest feminist work, Dear Ijeawele, and during the conversation she critiqued the idea of chivalry, noted why she has a problem with men holding the door for women, women and children given priority during emergency situations, and why she feels these acts/gestures often sprout from the idea that the woman is weak.
She said:
Quote
"I think just like holding the door shouldn't be gender because we should open the door for every one. I hold the door for men and women. I think the idea of sort of holding the door for a woman because she is a woman, I have trouble with, I'm quite happy for people to hold the door for me i hope they are not doing for the sort of idea of chivalry because chivalry is the idea of women are somehow weak and need protecting but we know that there many women who are stronger than men.
Which is also why I have issues with women and children when women are classified…when there is a tragedy and we say women and children should live first. I think actually it is the people who are weak and unwell who should leave first."
Watch the clip below.

As expected, this triggered heated debate on social media; while many fans agreed with her thoughts, others, who apparently have a problem with her feminist ideas, are flaying her on Twitter.
See some of the reactions below.