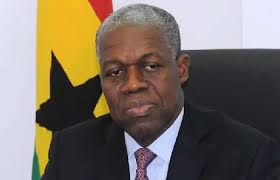 Former Vice President of Ghana Kwesi Amissah-Arthur is dead, local media reported early Friday.
Although full facts are not yet out, the report said the former number two man of the country under the John Mahama led National Democratic Congress collapsed early Friday at a gym at the Air Force base where he had gone to exercise.
He was subsequently rushed to the 37 Military Hospital where he died shortly after.
The 67-year old, popularly referred to as PK, also served as Governor of the Bank of Ghana between 2009 and 2012 during which time Ghana enjoyed about 30-month long single digit inflation and a stable foreign exchange environment.
He was last seen in public on Wednesday during a book launch by his wife Matilda Amissah-Arthur.
"I have learnt with shock and great sadness the sudden death of the former Vice President of the Republic, His Excellency Paa Kwesi Amissah-Arthur," Ghana President Addo Akufo-Addo posted on Facebook.
The president described the former vice president as a longstanding public servant, who discharged his duties with dignity, adding: "The news of his death is unfortunate, since he appeared to have a lot to contribute to the public life of our country."
Amissah-Arthur was a lecturer at the Economic Department at the University of Ghana, Legon from 1980 to 1988. Alongside that he became a Special Assistant to the Former Secretary (Minister) for Finance, Kwesi Botchway from 1983 to 1986.
Amissah-Arthur subsequently rose to become a Deputy Minister for Finance and Economic Planning from 1986 to 1997.
Prior to becoming a politician, Amissah-Arthur had lectured at the Department of Economics, Anambra State College of Education, Awka, Anambra State, Nigeria between 1981 and 1983.
He is survived by his wife Matilda and has two children.