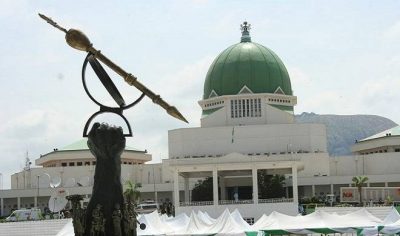 Two days after President Muhammadu Buhari expressed reservations over some alterations in the 2018 budget, both chambers of the national assembly have sent a response to the president.
Abdulrazak Namdas, spokesman of the house of representatives, had earlier issued a statement, saying the parliament was not expected to act as a "rubber stamp".
But at a press conference on Friday, Namdas and Abdullahi Sabi, spokesman of the senate, defended the action of the federal lawmakers.
They said Buhari would not have raised the alarm over the introduction of 6,043 projects into the budget and other changes, if his aides had briefed him properly.
"Adjustments and reductions in the locations, costs and number of projects approved were made in order to address geo-political imbalances that came with the Executive proposal," they said.
"The introduction of new projects was done to ensure the promotion of the principles of Federal Character as contained in Section 14, subsection (3) of the 1999 Constitution of the Federal Republic of Nigeria as amended which states that "the composition of the Government of the Federation or any of its agencies and the conduct of its affairs shall be carried out in such manner as to reflect the federal character of Nigeria…" The number of projects had to be increased in order to give a sense of belonging to every geo-political zone of the country to ensure socio-economic justice, equity, fairness, and to command National loyalty.
"Within the context of the provisions of Sections 4, 80 and 81 of the Constitution, everything that the National Assembly has done is within its powers.
"Furthermore, Chapter 2 of the Constitution emphasizes the need for balance, inclusivity, and equity in the distribution of national resources. The annual budget, which symbolizes the distribution of these resources must reflect the aforementioned values, which we swore to uphold.
"These Constitutional provisions, in addition to a recent Court judgment have affirmed the fact that the budget process is a 'joint effort' that must reflect the input of both the executive and the legislature — the latter being the closest representatives of the people. However, we are fully aware that the Executive has the exclusive responsibility to execute all parts of the Appropriation Act once it is signed into law.
"It is our firm belief that if the President had been properly briefed by his appointees, he would not have raised most of the concerns that he did in his remarks at the budget signing. It is therefore inevitable for the legislature to give members of the public an insight into what transpired during the appropriations process and how we arrived at the decisions that are contained in the 2018 budget." (The Cable )