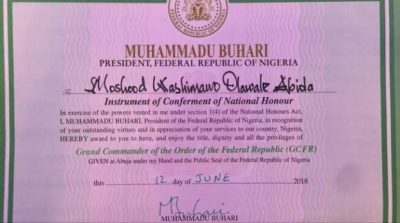 President Muhammadu Buhari has formally conferred late MKO Abiola, the presumed winner of the June 12, 1993 presidential election, with the Grand Commander of the Federal Republic (GCFR).
Buhari conferred Abiola with the honour — received by Kola, his son — on Tuesday in Abuja.
The result of the election was annulled by the military government of Ibrahim Babangida before they were announced.
Buhari also confered Baba Gana Kingibe, Abiola's running mate in the election; and Gani Fawehinmi, late human rights activist, with the Grand Commander of the Niger (GCON).
While announcing the investiture, Buhari also declared June 12 as new date for Democracy Day, in place of May 29, the usual date.
He had said the fact that the outcome of that election was not upheld by the then military government "does not distract from the democratic credentials of that process."
"June 12th, 1993 was the day when Nigerians in millions expressed their democratic will in what was undisputedly the freest, fairest and most peaceful elections since our Independence," he had said.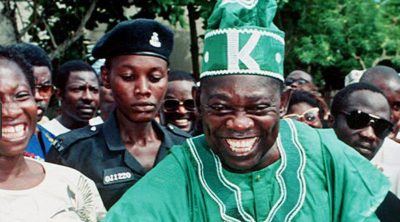 Abiola's honour had generated missed reactions among Nigerians, especially at the national assembly.
Some lawmakers had said both the investiture and the June 12 public holiday is unconstitutional, while others said it is well deserved.
But Femi Falana, human rights activist and senior lawyer, faulted those kicking against the investiture, saying Buhari could honour any Nigerian "dead or alive".
(The Cable)