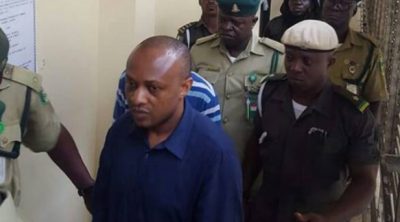 Following the withdrawal of Mr Olukoya Ogungbeje, lead defence counsel of Chukwudumeme Onwuamadike alias Evans, from all criminal cases in the high courts in Lagos, the alleged kidnap kingpin has employed the services of a new counsel.
The News Agency of Nigeria (NAN) reports that at the resumed proceedings on Friday at an Ikeja High Court, Mr Noel Brown, announced his appearance as the counsel for Evans and the only female co-defendant, Ogechi Uchechukwu.
Evans and Uchechukwu are standing trial alongside Uche Amadi, Okwuchukwu Nwachukwu, Chilaka Ifeanyi and Victor Aduba for allegedly kidnapping Mr Donatus Dunu, the Managing Director of Maydon Pharmaceuticals.
About 232,000 Euros was allegedly collected as ransom from Dunu's family by the gang.
Ogungbeje, Evans' former counsel, had on June 13 announced that he was withdrawing from the case following threats to his life and for personal reasons.
"For the avoidance of doubt, we wish to state that we have fought a good fight this far despite repeated and sustained threats to my life and to my defence lawyers," he said in the statement.
Read More: Evans' lawyer withdraws from his trial
During Friday's proceedings, it was revealed that Ogungbeje had written to the court requesting that the judge should order the Lagos State Commissioner of Police to provide security for him during his appearance in court.
Reacting to the letter, Justice Hakeem Oshodi said: "This is an abuse, the court cannot order the Commissioner of Police to protect him.
"I don't know what he wants to achieve by this letter."
Still reacting to the letter, Justice Oshodi asked all the defence counsel if they had received threats for defending their clients during the course of the trial.
They all responded in the negative.
It was also revealed during proceedings that Amadi and Nwachukwu, the second and fourth defendants, had no legal representations.
They, however, informed the court that they would hire the services of a defence counsel at the next adjournment.
Responding, Ms Titilayo Shitta-Bey, the Director of Public Prosecutions and the lead prosecutor in the case, requested an adjournment to enable the new defence counsel to get acquainted with the facts of the case.
She said: "We have three witnesses in court and the new counsel told me that they had just applied for the records of proceedings.
"I will be requesting for a short adjournment to enable the defence get acquainted with the case and also for the defendants that are not represented to engage counsel."
While obliging the DPP, the judge said that a date during the court's annual vacation would be assigned for the case.
Justice Oshodi adjourned the case until Sept. 11 for continuation of trial.