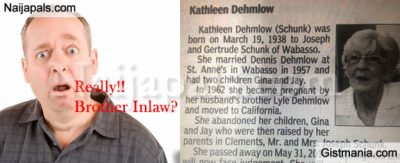 A family shaded the heck out of their 80-year-old relative in a newspaper obituary because she left her husband and kids to go live with her brother in law.
Kathleen Dehmlow passed away last Thursday in Springfield, Minnesota. In an obituary published in a local newspaper, her family let it b known that she would not be missed at all. They went on to spill details about her life in the paper.
The obituary states that Kathleen married Dennis Dehmlow in 1957, and the couple had two children, Gina and Jay. Five years later she apparently "became pregnant by her husband's brother Lyle Dehmlow and moved to California."
The obituary continues:
She abandoned her children, Gina and Jay, who were then raised by her parents in Clements, Mr. and Mrs. Joseph Schunk.
She passed away on May 31, 2018 in Springfield and will now face judgement.
She will not be missed by Gina and Jay, and they understand that this world is a better place without her.
The obituary has already been shared over 20,000 times on Twitter. Some social media users have slammed the family for the disrespectful tribute, while others are in support of the family for being truthful.