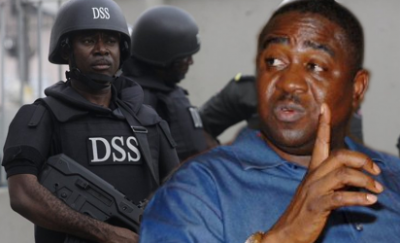 The arrest and detentionof former Benue State governor, Gabriel Suswam, was caused by a call he received from a notorious militia in the state, Vanguard can reveal.
The militia, who had since been declared wanted by security agencies for wanton killings in Benue and neighbouring states, unconsciously plunged the former governor into trouble by placing a call to him; and the two-term governor picked without suspecting that his line had been under surveillance.
The former governor, Vanguard learned, had been under the radar of the DSS since some guns and exotic vehicles were retrieved and taken away from a palatial property in Maitama District said to belong to him.
Although he was questioned and released in the wake of the incident, Suswam had been under the active watch of the security agencies, which were trying to establish if he had any links with individuals and gangs responsible for the spate of killings in the state.
But his innocence came under question again last Thursday when the security agents intercepted the call made by the wanted militia leader to him.
Vanguard also learned that two serving lawmakers in the National Assembly from Benue State (one from the Senate and another from the House of Representatives) who are uncomfortable with Suswam's political influence, sent separate petitions to the security agencies to look into his activities and relationships with certain groups in the state in the wake of escalating security threats.
Although Suswam initially suspected the state government of filing the petition that landed him in the DSS cell, the state governor, Dr. Samuel Ortom, has openly denied penning any petition against his predecessor.
In a statement made available to Vanguard through his media aide, Terver Akase, the governor said: "We wish to categorically state that Benue State Governor, Samuel Ortom did not write a petition, which led to the arrest of former governor of the State, Gabriel Suswam, contrary to some media reports.
"The Benue State government has written a petition against leaders of Miyetti Allah Kautal Hore and has filed a lawsuit against the group. The state government has evidence to prove that the socio-cultural organisation is responsible for recent attacks and killing of innocent people in the state.
"Those peddling the allegation that Governor Ortom is behind the arrest of his predecessor are doing so to cause disaffection and create a state of confusion.
"Ortom's administration will not be distracted from its commitment to get justice for victims of mindless attacks on the state," the governor said.
It was learned last night that the DSS was probing to establish whether there had been any strong link between Suswam and the notorious militia leader, who is believed to be behind many attacks and killings in Benue, Taraba and Nasarawa states.
The DSS has no spokesperson and does not respond to any enquiry since Marilyn Ogah, the last spokesperson, was removed by the agency. (Vanguard )