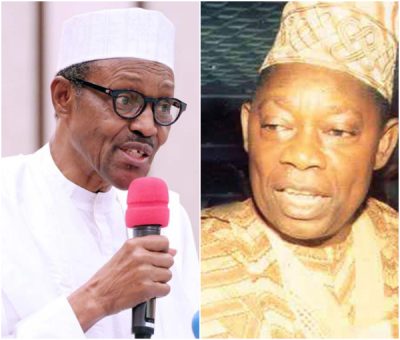 SOUTHEAST traditional rulers have backed the presidential honour bestowed on the late presumed winner of the June 12, 1993 presidential election, Chief MKO Abiola.
They also endorsed President Muhammadu Buhari for a second term.
Buhari awarded a posthumous Grand Commander of the Federal Republic (GCFR) to Abiola and declared June 12 as Democracy Day to be observed as public holiday from next year.
The June 12 election was annulled by the military government of Gen. Ibrahim Babangida
The Igbo monarchs described the presidential honour as "a major step that will engender national healing and unity.
According to them, the honour had rekindled the hope for the Igbo and other ethnic groups that have been nursing one grouse or the other.
Chairman of the South East Council of Ndieze, Imo State chapter, Eze Oliver Ohanwe, who spoke on behalf of the Igbo monarchs after a meeting on Tuesday, said Buhari's action had vindicated and reinforced their support for his re-election.
Eze Ohanwe said: "We thank the President for this courageous and all important action, which underscores his uncommon and unwavering commitment to the unity and progress of the country. It is no more in doubt that the President is on a salvage mission that has rescued the nation from the abyss, no matter what the professional naysayers and compulsive agitators might be up to.
"The President has demonstrated an uncommon resolve to sustain the peace and security of the country and has taken bold steps and measures that will certainly restore faith in our nation. Our country is being gradually transformed into a modern state with best practices in the conduct of public affairs."
The monarchs urged Nigerians to jettison sentiments and give Buhari a second chance in 2019 to complete the good work he had started.
The traditional rulers at their zonal meeting in April first endorsed the President's second term bid.
Ohanwe, who is also the vice chairman, Southern Region Association of Christian Traditional Rulers, said: "Since the annulment of the June 12 election, there has been clamour for the validation of that election, which had been largely seen as the freest and fairest election in Nigeria. No President in Nigeria had the gut to take a positive step.
"With the declaration of June 12 as a national holiday and the award of GCFR to the man that symbolised that era, a new chapter of national rebirth, unity, transformation, national integration and cohesion has been opened.
"The President's action in recognising Abiola's sacrifice and that of other illustrious Nigerians, which birthed the nation's democracy, has more than anything else reassured the Igbo that their grouses, which successive administrations have failed to look into, will soon be addressed. It is on this premise that we are urging Igbo sons and daughters to support President Buhari's re-election in the best interest of Ndigbo".
He added: " I think what remains now is for the President to come out with same joker that would assuage Ndigbo on the 1966 coup and lay the ghost of the civil war to rest forever." (The Nation )