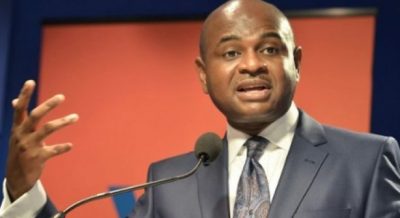 Kingsley Moghalu, ex-deputy governor of the Central Bank of Nigeria (CBN), says his father never took a bribe in his 35 years of civil service.
Moghalu's father worked as a diplomat in Geneva, Switzerland, and also served in Washington DC.
Speaking with journalists in Lagos, Moghalu, a presidential aspirant on the Young Progressives Party (YPP), said his father had a huge influence on him.
He also recalled some fond memories of his childhood.
"My family background pretty much shaped me. My father was in the civil service for most part of his life; my father had a very important influence in my life for two reasons, one, ethics and morality," he said.
"I remember him as a very jovial man. When we were growing up; he would beat his chest and say 35 years as a civil servant I never took a bribe, so I was impressed by that and it helped in shaping me. It makes me think of my background.
"My family is a family of five, I was the first child so I grew up being a leader. I had not only a value system but a strong sense of responsibility placed on my shoulders right from when I was young.
"In those days, my parents will delegate authority to me to discipline my siblings; they used to call me, Okoli the headmaster, I mean I had my cane, so those kinds of things place some responsibilities on you where you have to live up to expectation.
"These are the little but important things that shaped my personality and worldview."
He said as a leader, "you should have the interest of the people at heart and be ready to make sacrifices for them."
He also talked about how he played a direct role in bringing perpetrators of the Rwandan genocide to justice.
"As I went around in my service in the United Nations (UN), I kept on observing why certain nations prosper than the others and why some do not? Why is this country in conflict and why we, UN officials, are here to fix it? How do you fix a broken nation?" he asked.
"I learnt that practically; nation building 101. I learnt that over 17 years. Many people don't know it, I was political officer at the UN, so I was there during the Rwandan genocide. So all that happened during the genocide I know it like the back of my hand," he said.
"I played a very direct role in the effort to stop that genocide. Later on, because I continued to be present in the matter, I was chosen to serve in the United Nations war crimes in the international tribunal for I was the legal adviser and the spokesman of the tribunal.
"We were able to manage the situation. In the tribunal, we brought the perpetrators of the crime to justice; big men who thought they were untouchable, whose impunities were much. We tracked them around the world, negotiated agreements with various countries, arrested them, brought them back, tried and sent them to prison in various countries."
Moghalu said he has what it takes to transform the country, highlighting his plans to bring about "real" change.
He also spoke about his concept of restructuring, the ruling party and the opposition in addition to recommending solutions to some of the problems in the country. (The Cable)