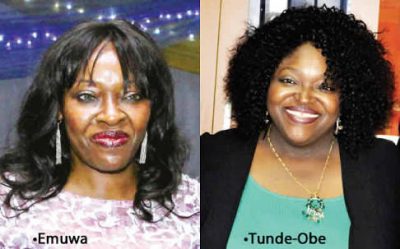 The Board of Punch Nigeria Limited has appointed Mrs Angela Olufunmilayo Emuwa (nee Aboderin), as its new Chairman. The appointment follows the demise of the Chairman of Punch Nigeria Limited, Mr Gbadebowale Wayne Aboderin, on May 30, 2018. The Board also appointed Mrs Valerie Omowunmi Tunde-Obe (nee Aboderin) as a non-executive director. Emuwa's appointment took effect from Tuesday, June 26, 2018.
Until her appointment, Emuwa, one of the daughters of the founding chairman of PUNCH, the late Chief Olu Aboderin, was a non-executive director of the company, having joined the board on July 29, 1994.
She earned a postgraduate diploma in Business Administration and an MBA from the ESUT Business School. She also holds a diploma in Communications Advertising and Marketing (CAM).
Between 1986 and 1995, Emuwa worked as an advert executive, senior advert executive, advert manager and corporate affairs manager at the Newswatch Communications Limited.
She was the Advertising Sales Director at Africa Today, 1995-1999 and Head of Operations at News Africa2000-2003.
She is the immediate past Chairperson, Golden Hearts Touching Lives Initiative, a non-governmental organisation that caters for indigent persons with special needs and the President, Autism Parents Association International, an NGO for Nigerian parents with autistic children. Emuwa, who sits on the Board of other companies, is married with children.
Tunde-Obe, whose appointment also took effect from Tuesday, June 26, 2018, attended Grange School and Queen's College, Yaba, Lagos. She holds a bachelor's degree in Philosophy from the University of Lagos. Between 1995 and 2001, she worked as a Senior Manager, Copywriting at LTC/JWT Advertising. In 2001, she and her husband founded KOPYKATS & Associates, a scriptwriting, music production and marketing company.
Tunde-Obe is the owner of Hair Afrique Beauty Salon, a subsidiary of United Hairways Beauty Company and Iya Ibadan Local Cuisine and Foods which promotes foods from Western Nigeria.
A certified member of the Association of Advertising Practitioners of Nigeria since 2004, Tunde-Obe is a director of Punch Commercial Printing. An entertainer and lover of the arts, Tunde-Obe is a co-founder of a music group, T.W.O (Tunde and Wunmi Obe), with her husband, Tunde. She is married with children.