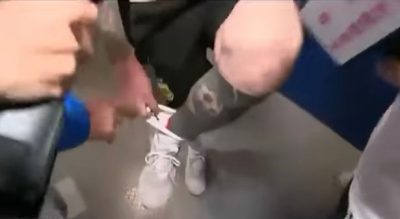 Lionel Messi was at his best as Argentina defeated the Super Eagles of Nigeria on Tuesday – and he may have been aided by a lucky charm.
The two-time champions needed a victory in their last game after a disastrous start to the campaign. They went ahead as the five-time Ballon d'Or latched on to an Ever Banega through ball before slotting home with his right foot. Nigeria did equalise in the second half from a Victor Moses penalty, but an 86th minute Marcos Rojo strike put Argentina in the second round.
After the game, Messi was approached by Argentine journalist Rama Pantarotto. Prior to the game, Pantarotto's mother had sent the Barcelona forward a red ribbon as a good luck charm.
The reporter asked Messi if he remembered receiving the item and to her shock, the 31-year-old lifted up his sock and revealed the ribbon tied around his ankle. She was stunned as the forward left the mixed zone.
From the common tendency of players to touch the ground and cross their heart as they come onto the pitch (Thierry Henry), to the coach who takes players' star signs into consideration before selecting his team (Raymond Domenech). From the player who prepares for matches by reading Dostoevsky in the toilet (Gennaro Gattuso) to those who think that no harm can come to them because they wear their underwear inside out (Adrian Mutu) – football is full of superstition. And Messi had to jump on the bandwagon just to see off the Super Eagles.
But then, what a performance; what a goal! (The Cable)