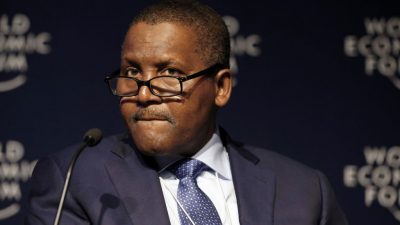 In less than 2 months, Africa's richest man, Aliko Dangote has lost more than $100 million of his net worth.
Dangote's fortune dropped by 0.8% to $12.3 billion from the last record of $12.8 billion as at Monday, May 21, 2018, according to the latest Bloomberg Billionaires Index of top 500 billionaires in the world.
Bloomberg Billionaires Index is a daily ranking of the world's billionaires published by Bloomberg News since March 2012. The index tracks the 500 wealthiest people, the biggest movers and fortunes around the world. The ranking was designed to provide a more transparent and accountable presentation of the world's biggest personal fortunes.
With the drop, as at Monday, July 9, 2018, the Nigerian business magnate still maintains the top position as Africa's richest man and the 103 spot on the top 500 billionaires in the world.
Dangote's whose wealth hit the highest record of $14.3 billion in February 2018, has dropped about $2 billion in the last five months, according to Data seen by Business Insider Sub-Saharan Africa.
His main business, the Dangote Cement Plc is planning to raise N150 billion in new debt capital to finance its business operations.
The company is also planning to list its shares on the London stock exchange after Nigeria's 2019 general elections.
The billionaire's businesses have not been performing well on the Nigeria Stock Exchange largely due to profit taking activities and weak demand despite at the floor of the Nigerian Stock Exchange. (Business Insider)