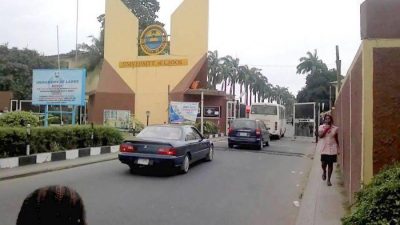 The management of the University of Lagos, Akoka, has presented an interim report of the fact-finding panel set up to look into an allegation of sexual harassment involving one of its lecturers.
The principal assistant registrar, Communications Unit of the institution, Taiwo Oloyede, spoke with PREMIUM TIMES in a telephone interview on Monday.
Over one month ago, the university set up the panel to investigate an allegation of sexual molestation made by a female student of the Department of English.
The student had shared her story, and nude photographs of the lecturer, Olusegun Awonusi, a professor of English Studies at UNILAG and former Vice-Chancellor of Tai Solarin University of Education (TASUED), Ijagun, Ogun State. The report was published on the popular lindaikeji blog.
The student accused Mr Awonusi, a former Commissioner of Education in Ogun State, of sexually molesting her.
She said she was reaching out to the public to stop the professor's victimisation, "as many students had allegedly been victimised by him".
The lecturer denied the allegations.
On Monday, Mrs Oloyede told PREMIUM TIMES that the panel had given an interim report.
She, however asked PREMIUM TIMES to visit the university website for the official release of the panel.
The website said the panel had been able to establish that the student involved is Joy Nwana, who graduated from the Department of English in the 2015/2016 academic session.
The university however, said "claims made by Ms. Nwana and Linda Ikeji Blog could not be substantiated, because of their repeated absence at the panel's enquiry sessions".
The institution further said the attempt to get the duo to make representations at "the sessions did not yield a desired results."
Meanwhile, the Vice Chancellor of the University, Oluwatoyin Ogundipe urged the the general public and parties involved to avail themselves at the panel to substantiate their claims.
He also promised that the university would continue with its investigations.
The Obafemi Awolowo University, Ile-Ife recently fired Richard Akindele, a professor at the centre of a leaked sex-for-mark audio scandal.
The university said he was found guilty of serious misconduct.
PREMIUM TIMES reported how a panel set up by the university to investigate the allegations indicted the teacher. (Premium Times)