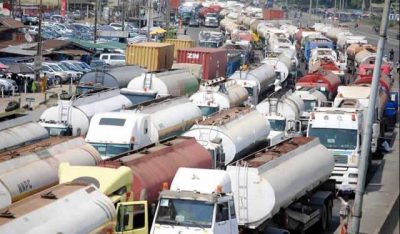 MANY private haulage firms have lamented disruption of their operations due to the diversion of articulated vehicles into their parks by "Operation Restore Sanity" Task Force.
According to employees of some of the haulage firms who declined not to have their names in print, many of the trailers and tankers are being forcefully diverted into their premises and park by the Task Force, thereby congesting and disrupting operations of the firms.
Speaking to Tribune Online, some of the private haulage workers stated that, "The Task Force set up by the Vice President, Yemi Oshinbajo are forcefully diverting trailers and trucks that are parked on the road into our premises.
"Many of our parks are now congested. Parks that normally contain 100 trucks are being forced to take 150 trucks. This has disrupted our operations because some of our articulated vehicles that are supposed to come out have been trapped inside by this congestion. We can't even carry out repair works in our yards because the whole place is choked.
"Our businesses are suffering. But because it is a Presidential directive, we have decided to keen mum."
Also speaking to Tribune Online, the Lagos State Vice Chairman, Dry Cargo Section of Nigerian Association of Road Transport Owners (NARTO), Alhaji Abdullahi Inuwa confirmed that articulated vehicles are being diverted into private parks to create space on the already choked up roads.
"When the Vice President, Prof. Yemi Oshinbajo arrived, he arrived in the company of the Minister of Transportation, Rotimi Amaechi via a chopper, and they went straight into the port.
"It was after then that a Task Force named 'Operation Restore Sanity" was formed to clear the traffic gridlock around the port area. NARTO was part of the Task Force.
"NARTO donated about 50 personnel and three vehicles to the Task Force.
"As I am speaking to you, I am at Berger area, and we have started diverting most of the trucks into private parks. A sizeable number of trucks have been diverted into private parks like Capital trailer park. Also, Pano trailer park has taken about 200 trailers.
"The same thing is happening in Mile 2 and Tin-Can port area. Many trucks have been moved into the Tin-Can trailer park to decongest the roads.
"The Task Force is working day and night to clear roads leading to the ports," Inuwa Abdullahi stated.
It would be recalled that Vice President Yemi Osinbajo on Friday directed security agencies and relevant bodies to commence a 72-hour joint operation to restore order around Apapa and environs with a view to easing vehicular movement in that part of Lagos State.
Trailers parked indiscriminately over a long stretch of the Apapa-Oshodi expressway have been causing massive traffic gridlock on the road for several days now.
Osinbajo, who made an unscheduled visit to the road to personally assess the situation, also asked relevant government agencies to speed up decongestion of the Apapa ports.
Involved in the 72-hour joint operation are the Police, Navy, Army, Air Force, Federal Road Safety Corps and the Nigeria Security and Civil Defence Corps.
The Lagos State Traffic Management Authority, Lagos State Emergency Management Agency, container truck drivers, National Association of Road Transport Owners, National Union of Petroleum and Natural Gas workers and Road Transport Employers Association of Nigeria are also joining in the operation.