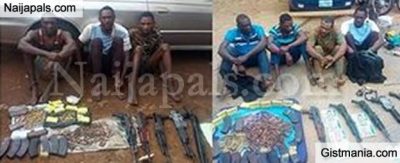 Operatives of the Inspector General of Police (IGP) Intelligence Response Team (IRT) have arrested six suspected bank robbers said to have operated in Kwara, Kogi, Niger, Kaduna States and Abuja.
The suspects, James Obaje, 34, Nelson Yakubu, 36, Yakubu Danladi, 27, Ibrahim Mutari, 25, Suleiman Ilo, 35, and Gboyega Olaoye, 35, all indigenes of Kogi, were arrested in Kwara, Kogi and Kaduna States. .
According to the police, they were also involved in series of car snatching and attacks on petrol stations. They normally hide their ammunition in the hood of their operational vehicle.
One of the gang leaders, James, who spoke to reporters gave more details on how they conceal their weapons without being detected.
He said:
For the fact that we are likely to encounter security agents on the road and to avoid the risk of being caught, we hide our arm and ammunition under the bonnet of the car. We have designed some sections within the engine that will accommodate the guns. With this it will be hard for Police to detect we are carrying weapons"
It was gathered that three AK47 rifles, a K2 rifle, a pump action gun and over 500 rounds of live ammunition. Also recovered was a blue Mazda 626 marked KEY627DS, said to be their operational vehicle, charms and various number plates.