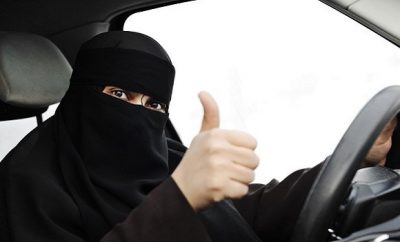 Saudi police are hunting for arsonists who torched a woman's car only a week after the kingdom lifted a decades-long ban on female motorists.
Salma al-Sherif, a 31-year-old cashier based near the holy city of Mecca, told local media that her car had been deliberately set alight this week by men "opposed to women drivers".
"The incident is being investigated by security officials," Mecca police said in a statement released late Tuesday by local authorities.
On June 24, women celebrated taking the wheel for the first time in decades as the ultra-conservative kingdom overturned the world's only ban on female drivers.
For decades, arch-conservatives justified the ban saying that allowing female motorists would promote gender mixing and promiscuity.
Sherif said she faced abuse from men in her neighbourhood soon after she began driving in a bid to ease her financial pressures.
"Half of my salary of 4,000 riyals ($1,067) was spent on a driver to take me to my workplace and drive my elderly parents," Sherif told the pro-government daily Okaz.
"But from the first day of driving I was subjected to insults from men."
Sherif received an outpouring of support from Saudis on social media, with many posting pictures of her burning vehicle and denouncing the attack as a "terrorist act".
Local reports did not say whether her car was insured.
Authorities have sought to show the driving reform had religious approval, with the kingdom's top clerical council emphasising the lifting of the ban was in line with Islamic values.​
But many are still wary of a backlash from hardliners, amid a torrent of sexist comments against women drivers on social media.
Many women say they are staying off the streets, testing reactions in a society torn between conservatism and a modernisation drive launched by Crown Prince Mohammed bin Salman.
Some 120,000 women have applied for driving licences, according to an interior ministry spokesman, but it remains unclear how many have been issued.
For now, the women taking to the roads appear mainly to be those who have swapped foreign licences for Saudi ones.
(AFP)