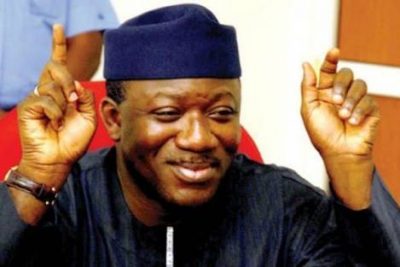 Kayode Fayemi has emerged winner of the 2018 governorship election in Ekiti state.
Fayemi, who contested on the platform of the All Progressives Congress (APC), defeated Kolapo Olusola of the Peoples Democratic Party (PDP).
Unlike the last governorship election in the state when he lost in all the 16 local government areas, Fayemi secured victory in 12 local government areas, leaving Olusola with four LGAs.
The APC candidate polled 197,459 votes while his closest rival had 178,121 votes, a margin of 19,338.
Olusola won in only Efon Alaye, Emure, Ikere and Ado-Ekiti.
The collation officers in all the local government areas announced the results at the office of the Independent National Electoral Commission (INEC) in Ado-Ekiti, the state capital.
Abdulganiyu Raji, the resident electoral commission (REC) in Ekiti, Idowu Olayinka, vice chancellor of the University of Ibadan and returning officer of the election, are putting finishing touches to the exercise ahead of the declaration of the winner.
Meanwhile, an agent of the PDP at the collation centre has called for the cancellation of the election.
He alleged that the exercise was not free and fair because it was militarised but his APC counterparts disagreed, saying the election reflected the will of the people.
Below is a table on the result of the election in all the local government areas.
| NUMBER | LG | APC | PDP |
| --- | --- | --- | --- |
| 1 | Ido- Osi | 12342 | 11145 |
| 2 | Oye | 14995 | 11271 |
| 3 | Ilejemeje | 4153 | 3937 |
| 4 | Irepodun-Ifelodun | 13869 | 11456 |
| 5 | Gbonyi | 11498 | 8027 |
| 6 | Efon-Alaaye | 5028 | 5192 |
| 7 | Moba | 11837 | 8520 |
| 8 | Ijero | 14192 | 11077 |
| 9 | Emure | 7048 | 7121 |
| 10 | Ikere | 11515 | 17183 |
| 11 | Ekiti West | 12648 | 10137 |
| 12 | Ikole | 14522 | 13961 |
| 13 | Ise-Orun | 11908 | 6297 |
| 14 | Ekiti East | 12778 | 11564 |
| 15 | Ekiti South-West | 11015 | 8423 |
| 16 | Ado-Ekiti | 28111 | 32810 |
| Total | | 197,459 | 178, 121 |
(The Cable)