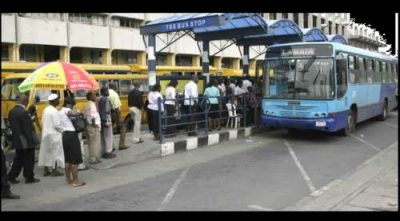 The Managing Director and Chief Executive Officer, Primero Transport Services Limited, operators of the Lagos Bus Rapid Transit system, Mr Fola Tinubu, in this interview with ANNA OKON talks about the operation of the popular transport system
How did your journey into the Bus Rapid Transit system begin?
I started running Primero, the company that operates BRT, about two and half years ago.
Before that, I was running a company called Maryland Wreckage which was into sand filling, reclamation and removal of abandoned vessels from the Lagos waterways. Before Maryland Wreckage, I was in America where I operated a company called Washington Mortgage for about 10 years before I decided to return to Nigeria.
Your wreck removal services are obviously still needed because there is a lot of wreckage on the waterways. Why did you leave that business?
I left because of a couple of reasons; to remove wreckage, the government needs to pay for it but the government wasn't forthcoming because of budget constraint. One cannot just go there and start removing wrecks; someone has to pay for it.
The wreckage needs to be removed because we need to clean up our waterways. The wreckage poses a lot of hazards, especially for Lagos that is low lying in nature. The wreckage affects the tide, movement of vessels and it endangers lives. Also, criminals hide in some of them.
How many passengers does the BRT ferry daily?
We ferry about 150,000 passengers daily and we are trying to increase that to about 200,000. Eventually, our goal is to have about 2000 buses all over Lagos that will ferry one million people daily.
How many buses do you have now?
At the moment we have 434 buses, although only 250 buses are fully operational. This is because some of the buses require some form of servicing and we have just ordered for some parts worth about $1m, which is due to come in at the end of the month. The fixing of buses, when the parts arrive, takes another two to three weeks and once that happens, we should be able to have between 350 and 375 buses out on a daily basis.
There are about 20 million people in Lagos and the transport need is very huge. What challenge does that present to you?
Lagos is the only mega city without a proper public transport system and I think that was why the state government came up with the BRT scheme. They have 13 BRT corridors planned and they are on the first corridor now. So, eventually, there are going to be 13 corridors all over Lagos. It is a public-private partnership scheme.
Lagos residents need to be patient because the infrastructure that needs to be put in place before the buses come in is huge. The Oshodi-Abule Egba route is the second corridor and it will be ready before the end of the year. When that is completed, the work will move to another corridor. So, there are plans on ground.
There is also plan to supplement the scheme with the light rail system because we need to reduce the number of vehicles on our roads. If we can do that it will ease traffic, enhance commercial activities and there will be less carbon monoxide in the atmosphere.
You have 434 buses, at what point did it rise to that number?
We started with 434 buses. The Lagos State Government has a bus reform scheme and it is bringing in more buses along some private investors.
According to research, Lagos State needs 7000 buses plying on its roads daily. Right now, if you add our buses to the one that the Lagos State Government is bringing and the yellow buses, I don't think there are up to 1500 buses.
So, there is still growth opportunity. It is a very capital intensive business because to bring in buses costs a lot of money. But such needs to be encouraged because there is a huge demand for it.
There are issues with reckless driving, delays, passengers waiting endlessly for buses. How do you handle such issues in-house?
Let's start with passengers waiting for buses. I understand that fact and I will not shy away from it. We are working tirelessly to reduce the waiting time. Part of this is caused by traffic, like when a tanker fell on the bridge and blocked everywhere. I received quite a number of calls and we had to get the buses to go through another route to ferry these passengers.
Part of it is out of our control, but for that which is within our control, we will continue to push out more buses. The Lagos State government has provided us a technology called Intelligent Traffic System. With this, we are able to monitor the buses and we know where they are at all times.
It is not a perfect system. I will not rest until it is near perfect. I go to bus stops every other day to meet with commuters and get first-hand experience of what is going on. So, I see and clearly understand the challenges.
Having said that, anywhere in the world and during rush hour, there are usually queues. However, I don't believe that anybody should wait for more than 10 to 15 minutes to board a bus and I will not rest till we get there.
With regards to the drivers, we are training them and every quarter they have to go for training and medical checkups to be sure they are fit to drive. Each bus carries about 70 passengers and we don't want their lives to be endangered. We also stop them on the routes regularly for breathalyser. I don't even know the driver(s) that would be picked because the computer picks them at random.
We have also introduced speed bumps on our corridor to check speeding drivers. On all our buses, there are two toll free numbers for people to call and register complaints. It is open every day, from 7am-10pm.
The public transport business is a public-private partnership project but it is observed that LAGBUS vehicles are not allowed to move along the BRT corridors; what is the reason for this?
This is because we pay a portion of our revenue to the Lagos State Government for the use of the corridor. They are not on the scheme.
What are the challenges of this business?
The business is fraught with challenges and it is a thankless job. If you move 200,000 people on the go and only 100 people are left on the queue, they will complain. What we are doing has never been done on this scale in the Nigerian intra-city system.
We have made many mistakes; we are learning from them and trying to correct them as we go along. Like other companies in Nigeria, one of our biggest challenges was the depreciation of the naira because we took a loan in dollars at the exchange rate of N165/dollar to buy these buses. At a time, the dollar went to as high as N500 and we still had to service the loan.
We don't manufacture anything in Nigeria, we literally import everything. All the things that we use on the buses doubled overnight. Therefore, our cost doubled; our debt went through the roof and the income stayed more or less the same. It was tough and it is still very tough. We know there is a social element to our business; we can't get away from that. But we are also a for-profit business and we need to break even.
All over the world, there is a political decision to subsidise public transportation. In Lagos State, we don't do that. And for Primero to increase its fare, we have to go to Lagos State to get that approval. In fact, people think Primero is an agency of the Lagos State Government but no, it is not. I have shareholders; I have investors (banks) that lent me a lot of money and we have to service our loan. So, we have to find a way to break even.
With what is going on now, I honestly believe Lagos State would have to make a political decision to subsidise public transport or allow the private operators to charge the market value. We can't have it both ways. It is a political decision that has to be made if they want a world public transport system in Lagos State. It has to have some element of subsidy.
All over the world there is no transport system that makes money without subsidy. If we have to charge the full market rate, our charges would double and unfortunately, the majority of the people that use our services are the middle class and low income earners.
Look at diesel, we were buying diesel for N150/litre before the devaluation. Now, we are buying it for N230/litre. We were buying a tyre for N60, 000 when we started; now the same tyre is selling for N130,000.
When our cost doubles and our debt doubles because of the devaluation in the naira, which is out of our control, yet pricing remains the same, this would become a recipe for disaster. Government has to make a political decision if the private sector is to invest in this. The last couple of years have been rough on Primero.
How do you prevent fraud?
We have introduced a new card system and with that we hope to generate more revenue. With public transport anywhere in the world, there will be people who try to circumvent the system. When you are caught, you pay a fine, but in Nigeria, enforcement is lax.
With the new card system, we would be sure of what is coming to us and would have blocked leakages. Our target is that by the end of the year, nobody would board the buses without our cards.
There are two sets of cards. There is the Lagos Connect, which can be used on our buses only and another one with Sterling Bank called My Fare, which you can use on our buses and also use in grocery stores with Point of Sale machines.
Do you intend to expand to other states?
We are in talks with some states and will treat each state based on its merit. In Lagos there is a steady market of over 20 million people that need to be moved daily. This is very unlikely to happen in other states. (Punch)