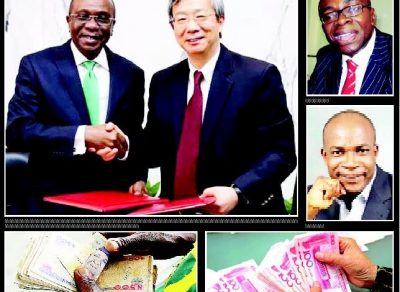 The Central Bank of Nigeria (CBN) is wooing importers of goods from China to use the Yuan instead of the dollar. The move supports the bank's effort to promote naira exchange rate and boost foreign reserves.
CBN officials have been holding town hall meetings with businesses in Lagos, Aba and other cities to introduce the Yuan ahead of plans to start auctioning the Asian currency later this month.
Nigeria suffered severe dollar shortages after the price of crude oil, its top export and main source of forex, plunged in late 2014, prompting it to introduce capital controls in 2015.
The country now has multiple exchange rates against the dollar and has been selling the greenback on the interbank market to boost liquidity after floating the naira for investors. "The Central Bank will encourage users importing goods from China to use the yuan and not the dollar," officials said.
"Dollar demand burden arising from trade with China would be lifted from our foreign exchange reserves," they said, adding that initial Yuan trades could be small.
The CBN signed a $2.5 billion currency swap arrangement with the People's Bank of China (PBOC) in May. Officials said the deal is aimed at reducing reliance on the dollar and "as such reduce the pressure on the naira-dollar exchange rate."
Under the swap arrangement, the CBN would hold N720 billion in an account in favour of the PBOC while the Chinese central bank would hold 15 billion yuan, implying an exchange rate of N48 to the yuan.