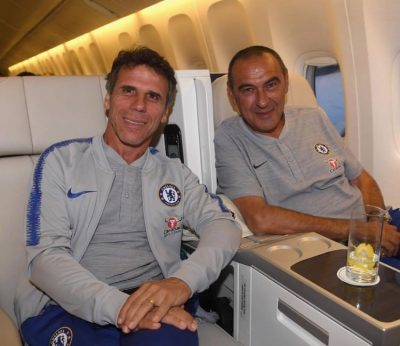 Chelsea have confirmed that Gianfranco Zola will be Maurizio Sarri's assistant manager.
Zola returns to Stamford Bridge, having enjoyed a wonderful seven-year playing career at Chelsea during which he scored 80 goals and won four major trophies.
"For me it is an amazing thing. I am very willing to work hard because it is going to be a difficult challenge but I am pleased to be here, and to work hard with Maurizio to be successful.
"It would be great to be successful with Maurizio and for the club and I will give my best, as I did in the past as a player, so I will give my best in my new position.
"I am very much looking forward to the challenge in general. I would love us to start well and we are all very excited to start this new adventure," Zola told the club's official website.
On heading off for the first pre-season game in Perth, Australia, he added: "It is a long way to travel but we are very pleased to go there and entertain our supporters over there. I know they are big fans so it will be a pleasure."