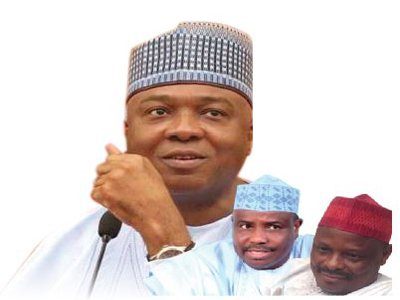 •Senate President summons meeting of loyalists, strategists for final decision
•No timeline for defection, says Ologbondiyan
The Peoples Democratic Party (PDP) seems to be in a hurry to get its deal with members of the Reformed -All Progressives Congress (R-APC) done and sealed.
The two sides have been locked in intense talks and negotiations over the last few weeks for the aggrieved members of the APC to switch camps ahead of next year's elections.
But President Muhammadu Buhari and the new national chairman of the APC, Comrade Adams Oshiomhole, have also launched peace talks of their own to persuade such APC members to reconsider their plan to dump the party.
With no defection of note happening as expected by the PDP, the party has given Senate President Bukola Saraki, House of Representatives Speaker Yakubu Dogara and others a two-week deadline to make up their minds and rejoin it.
Also being wooed by the PDP are : Governor Aminu Waziri Tambuwal (Sokoto); Governor Abdulfatah Ahmed (Kwara); Governor Samuel Ortom (Benue); ex-Governor Rabiu Kwankwaso, many Senators and members of the House of Representatives mostly in the Reformed-All Progressives Congress(R-APC) and other willing defectors.
The Nation gathered that the Senate President who met with Buhari at the Presidential Villa, Abuja on Thursday, has summoned an emergency meeting of his associates, loyalists and strategists to take a final decision on whether or not to defect.
The meeting, which may hold anytime this week with tomorrow said to be the target date, if all those concerned could make it to Abuja.
It was learnt that Saraki has been in Lagos and Ilorin on whistle stops over the last few days for last minute consultations with his allies.
Sources told The Nation that a committee empanelled by Saraki has recommended that defection is "appropriate and popular" among his loyalists.
Investigation by our correspondent revealed that the two week deadline was conveyed to Saraki in Ilorin by Governor Nyesom Wike on Wednesday during a closed door session that took place after the Fidau for Hajiya Aishat Baraje, mother of a former National Chairman of PDP, Alhaji Kawu Baraje.
Baraje, who was also chairman of the New PDP (nPDP), is one of the key promoters of R-APC.
A top source familiar with the development said: "there is no doubt that the PDP delegation came for the Fidau and to mount pressure on Saraki to hasten action on the proposal to accommodate likely defectors from APC to PDP.
"Wike, who led the team, asked Saraki to wrap up decision on the defection within the next one week or two weeks in order to enable PDP adjust its structures ahead of primaries for various elective posts in 2019.
"Do not forget that the defection might alter the party structure at the state level and the power sharing formula. The PDP has clearly stated that it will give equal rights and a sense of belonging to all defectors.
"This deadline applies to Saraki, Dogara, Tambuwal, Kwankwaso, other governors, Senators, members of the House of Representatives, Speakers and members of the State Houses of Assembly; and other party chieftains.
"The conduct of primaries by all parties is expected to begin on August 18. Any serious defector, technically, has less than three weeks to do so in order to be able to integrate with the structure of the party.
"And the National Assembly will soon go on break to enable the lawmakers participate in the primaries."
Responding to a question, the source said: "I think Wike, who is a key facilitator in strengthening PDP ahead of 2019 poll, is working on a deadline to prevent undue pressure on the APC bigwigs which might make them change their decision."
No timeframe for defection, says Ologbondiyan
However, the National Publicity Secretary of PDP, Mr. Kola Ologbondiyan said last night that there is no timeframe for defection.
"There is no timeframe for defection. Our constitution says those who are coming to our party can contest election within one month to the conduct of any elective post. And even that one month can still be waived," he said when contacted by The Nation.
Continuing, the PDP spokesman said: "I am not aware of the two-week deadline given to those who are defecting and it could not have been true.
"It is natural for those defecting, who want to contest for elective offices in 2019, to join PDP before the primaries."
What INEC time table stipulates
The Independent National Electoral Commission (INEC) in January released the guidelines and schedule of activities for the 2019 poll.
According to the guidelines, all political parties are expected to collect forms for all elections latest by August 24, 2018.
The Chairman of INEC, Prof. Mahmood Yakubu said the notice of election would be communicated on August 17, 2018 in line with Section 30(1) of the Electoral 2010 which provides that the notice of election be made not later than 90 days before the election.
He said the conduct of party primaries and resolution of disputes from the exercise will hold between August 18 and October 7, 2018.
Saraki summons meeting with associates
Sources said Saraki is currently on the last lap of his consultations with his associates on whether to defect or not.
A final decision is expected to be taken at the meeting which will take place anytime this week.
Although it was reliably learnt that the session might take place on Monday, it could not be officially confirmed as at the time of going to the press.
"There is pressure from the two main parties on the President of the Senate. I can tell you that Saraki is on the last lap of consultation on whether to remain in APC or defect to PDP," a well placed source said last night.
"You can see that even the President, Vice President and some governors met with him at the Presidential Villa in Abuja on Thursday.
"A committee, set up to consult widely in all the zones and local government areas in Kwara State, has strongly recommended that he should defect. Left to members of the immediate family of Saraki, they do not want him to stay a day longer in APC because of his ordeal in the last three years.
"As a leader, the president of the Senate will hold a session with his associates, loyalists and strategists on whether to defect or not. The meeting will hold this week with Monday tentatively in mind. It is a moment he did not expect will come so soon after joining others to form a coalition which led to the birth of APC."
The source added: "The greatest concern of Saraki and his loyalists borders on whether President Buhari and APC leaders will keep faith if he remains in APC. No one has trust in the presidency and the APC leaders.
"If APC returns to power in 2018, the Buhari administration will be going through its constitutionally acceptable second term in which there will not be anything at stake. Are you sure Saraki will be safe enough?" (The Nation)