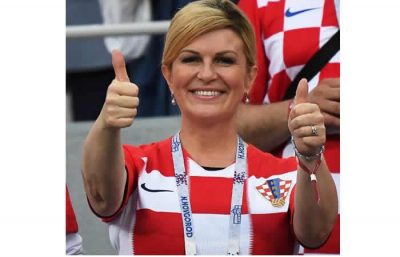 President of Croatia, Kolinda Grabar-Kitarovic's presence at the 2018 World Cup in Russia was not only a morale booster for the Croatian team, but also a delight for football fans who have been commenting about her beauty.
At the World Cup Final in Moscow's Luzhniki Stadium on Sunday, Grabar-Kitarovic shared the VIP box with the French president, Emmanuel Macron, Gianni Infantino and others.
The two European presidents created a sideshow during the match with the flirting that seems to be going on between them.
The Croatian president broke into football fans consciousness when she supported her country from the stands during the Croatia-Denmark clash, and several days later joining in the celebrations after her team beat Russia in the quarterfinals.
She also backed the Croatian footballers in person as they took on England.
Below are what you need to know about the Croatian president:
She is the first female president in Croatian history. She was sworn in February 2015, after narrowly beating the incumbent.
Prior to becoming president, she worked as a Croatian Ambassador to the United States and was Assistant Secretary General of NATO.
The 50-year-old's perfect looks haven't escaped the media's attention, with many heaping praises on her enviable shape and exquisite style.
She is notable for her down-to-earth style: for instance, she not long ago jetted to one World Cup match in economy class as part of a big crowd of regular football fans but also stayed in the regular stands before she was identified and brought into the VIP booth.
Grabar-Kitarovic social media handles are unverified, which is unlike so many other leaders.
She is married to Jakov Kitarovic.
They both graduated from Zagreb University.
They got married in 1996, and have a son, Luka, 13, and a daughter, Katarina, 17.
Grabar-Kitarovic was born on April 29, 1968 in Rijeka in the Croatian part of Yugoslavia.