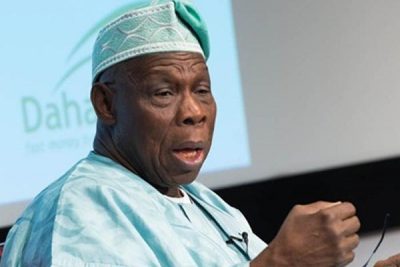 Former President Olusegun Obasanjo stormed the rally of Oladipupo Adebutu, one of the governorship aspirants of the Peoples Democratic Party in Ogun state, on Monday
The presence of the elder statesman energised the people at the rally which held at the Olusegun Obasanjo Presidential Library in Abeokuta, Ogun state capital.
When the microphone was handed over to him, Obasanjo wished the party and Adebutu success in the aspiration.
Obasanjo, who was dressed in white kaftan, said he came to the event "to say hello".
"I am just passing by and decided to say hello and wish you well… whether it is a joke or a real game, they will know. I saw you here and I came to play with you," Obasanjo told Adebutu before heading for his convoy.
Obasanjo, who served under PDP during his two terms as president, has since left the opposition party.
The former president tore his membership card of the PDP in the buildup to the 2015 election and said he had left partisan politics.
This followed a disagreement with ex-President Goodluck Jonathan whose reelection he bid he opposed.
Jonathan eventually lost the election.
At the moment, Obasanjo is also opposed to the reelection of President Muhammadu Buhari.
Adebutu, a serving member of the house of representatives, is an in-law to Obasanjo. (The Cable)