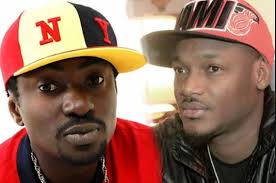 Nigerian singer, Blackface has reacted to the huge lawsuit slammed on him by a former bandmate, 2face Idibia. Blackface Naija, Dancehall and reggae singer, has said that his lawyers are taking care of the N50million lawsuit slammed on him by his former bandmate, 2face, stressing that they will meet in court.
2face and his manager, Efe Omoroge during the week slammed Blackface with an N50 million lawsuit for defamation of character over the latter's claim that 2face stole his hit songs, "African Queen" and "Let Somebody Love You."
In a WhatsApp call, Blackface confirmed to Potpourri that his legal team are taking care of the lawsuit, and that he's prepared to meet 2face in court.
Quote
"My lawyers are taking care of the legal action. Maybe you will be in court to follow up the proceedings if the case gets to that level because that's where we are going right now,"
Blackface said.
2face and Blackface used to be members of now-defunct Plantashun Boyz alongside Faze.
Blackface had called out 2face a few years ago, claiming he stole his songs and refused to give him credit. It got messy and they've had to call each other out on social media on a couple of occasions.
In 2017, Blackface was a guest on Loose talk Podcast, where he restated these claims, which led to a response from 2face, who accused him of defaming his character, with Efe Omorogbe threatening to go to court. Blackface refused and responded to them by saying 'Go to hell'.
Now, 2face and his manager have filed a lawsuit against Blackface at the Ikeja High Court claiming N50 million.