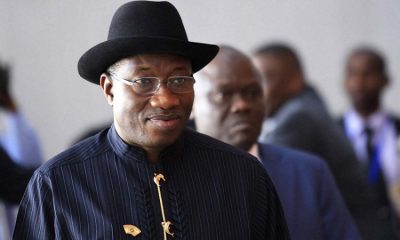 Former President Goodluck Jonathan has called for caution over the activities of security agencies deployed in Ekiti ahead of Saturday's governsorship election.
The ex-President's appeal followed yesterday's media reports of alleged manhandling of some people, including Governor Ayodele Fayose in Ado-Ekiti, the State capital, allegedly by security operatives.
In a statement by his spokesman, Ikechukwu Eze, the former President enjoined security personnel to act within the ambit of the laws of the land.
He pointed out that the presence of armed security operatives is meant to give voters the confidence to come out on election day and vote for candidates of their choice, and not to intimidate them.
Jonathan said: "If it is true that the State Governor, Mr. Ayodele Fayose, was assaulted as reported in the media, my appeal is that such should not be allowed to happen again, since the Governor's constitutional immunity guarantees that he should be given official protection to freely conduct the business of governing the state."
The former President further charged the Security agencies to not only strive to protect the laws of the land, but also seek to prevent any development that could negatively impact on the process of deepening the nation's democracy.