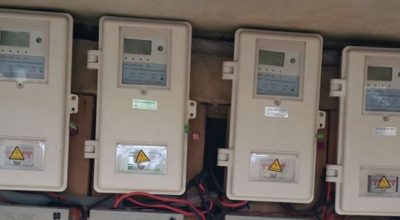 Babatunde Fashola, minister of power, works and housing, says there is no point for electricity distribution companies (DisCos) to raise tariff when many Nigerians have not been metered.
At a briefing on Monday in Abuja, the minister said if electricity consumers are not given meters, they will be unable to measure actual consumption, hence the prevalence of estimated billing.
He directed the Nigerian Electricity Regulatory Commission (NERC) to closely monitor the DisCos to improve their networks and provide meters to consumers.
At the event attended by James Momoh, NERC chairman, the minister said the directive was in tandem with section 32 of the Electric Power Sector Reform Act (EPSRA), 2005.
He added that the DisCos were working at a slow rate in investing in networks and meters. He, however, warned the DisCos to stop threatening off-grid investors.
"The ministry has no responsibility over tariff. The opinion I express after that tariff increase is that why should we increase tariff without meters? It is only fair that before the tariff goes up again, let us know how we can check that we are paying fairly.
"It is necessary to direct NERC to step in to do the following: ensure that the DisCos improve on their distribution equipment and capacity to take off the available 2,000 megawatts (MW) to optimise the electricity resource produced by the GenCos, and I direct NERC to immediately act in this respect.
"To enforce the contract of the DisCos to supply meters and act to ensure the urgent, speedy supply and installation of meters with a view to eliminating estimated billing and promote efficient industry and market structure.
"To stop the discos from threatening private entrepreneurs from entering the market to supply the consumers whom the discos cannot yet supply and to licence such persons subject to terms and conditions to promote competition and private sector participation and avoid a private monopoly."
Fashola said the rate at which customers were complaining over their inability to procure meters, crazy estimated billing and mass disconnections were alarming.
"The DisCos bought these assets with their eyes opened and they must completely deliver or exit," the minister said. (The Cable)