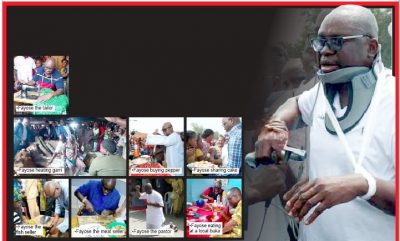 HE started his tenure on a note of high drama. It should therefore come to no one as a surprise that it is ending the way it began. If outgoing Ekiti State governor, Ayodele Fayose, had opted for Nollywood four years ago, he would by now be celebrated in the league of Omotola Ekeinde and other top actors and actresses that make the movie industry tick.
But he opted for the Government House, Ado-Ekiti and sought to turn the glorious edifice into a circus centre. Unfortunately, there is a clear dividing line between governance and comedy. Hence, rather than being celebrated as a successful administrator, he is taunted as a joker who turned the serious business of governance into comedy.
While the idea of equating governance with comedy initially appeared to resonate with the people, they later saw through the antics of the outgoing governor and came to the realization that the ablution of the cat is nothing but a strategy to steal meat.
Mystic of a 'people's governor'
Against the barrage of criticisms trailing his perceived low performance in key areas of economic growth, unremitted pensions of retirees and civil servants' outstanding salaries, which at some point extended for as long as seven months, Fayose resorted to bizarre measures to sustain the loyalty and trust of his people.
He stormed public markets and sidewalks to purchase ponmo (cow hide), pepper, tomatoes, fish and palm oil, thus usurping the duties of State House kitchen and auxiliary staff.
In a recent incident, he set the social media agog, posting photos taken of him at the Elegberun Market in Ikere Ekiti, where he ditched official protocol to purchase soup ingredients. In a tweet via his handle @GovAyoFayose, the governor said: "I am at Elegberun Market, Ikere Ekiti, today, to look at the ongoing construction work in d market. I also bought soup ingredients."
Fayose thus endeared himself to the electorate, not by exemplary performance, but for his adroitness at cozying up to the people. He roasted boli (plantain) on the streets; he hobnobbed with market women, ate at local bukas; and made frequent stops at agbo jedi (local herb) stalls to drink with the men.
This endeared him to the people, who preferred his presumed earthiness to the formal, haughty disposition of his peer, and Fayose exploited this to advantage. Thus while other governors got pelted with reproach and vitriol, for owing salaries and a slew of other shortcomings, Fayose enjoyed a pat on the back by Ekiti's impoverished electorate. Such was the charm of his theatrics.
Vintage Fayose boasts in defeat
Even in defeat, the outgoing governor of Ekiti State is dreaming of having "the last laugh" and has vowed to snatch victory from the jaws of defeat. Following the loss of his deputy and People's Democratic Party (PDP) candidate, Kolapo Olusola, at the state's July 14 governorship election, Fayose has told President Muhammadu Buhari and the All Progressives Congress (APC) that he will "reclaim the stolen mandate in court by the power of God."
The APC candidate, Kayode Fayemi, polled 197, 459 votes against Olusola's 178,121 votes, thus defeating him and emerging Ekiti's new governor-elect. But in a statement signed by Fayose's Chief Press Secretary, (CPS), Idowu Adelusi, on Monday, July 16, the governor boasted: "I am Peter Ayodele Fayose, I hold my head high. I can never
will laugh last," he said.
Fayose disputes Fayemi's victory, arguing that "if APC has truly won, why is it that there is no jubilation in Ekiti? The victory of Kayode Fayemi is pyrrhic."
The statement trimly portrays the quandary of the outgoing governor, in the wake of the July 14 elections. Fayose loathes submission in defeat. But it is his propaganda, not his reality, argued pundits and opposition figures.
The presidency held that the defeat signaled the political extinction of the outgoing governor. "The people of the politically important state of Ekiti have spoken out against their governor, outgoing governor Ayodele Fayose, who told them that the presidential election was a referendum on President Muhammadu Buhari and candidates Kayode Fayemi and Kolapo Olusola are chess pieces, and he and President Buhari are the actual candidates," said, Garba Shehu, Senior Special Assistant to the President on Media and Publicity.
He said: "The people of the state have sent a clear message. The politics of brinksmanship, assaults, insults, abuses and Robin Hoodism disguised as stomach infrastructure has been rejected in favour of politics of inclusion, development, responsibility and good governance.
"An old proverb says you can't beat something with nothing. After all the noise, theatricals and drama, Fayose's fall came with a thud, not a bang: a high-powered nothing."
The Chairman, Presidential Advisory Against Corruption, Prof. Itse Sagay (SAN), hailed the ouster of the PDP in Ekiti, adding that it would mark the end of "stomach infrastructure."
Sagay said this in a post-election interview, describing Fayose as a person who exploited the poverty of his people for personal gain.
He said: "I think Ekiti people have restored their sense of self-respect and dignity because to have elected a Fayose was a self-inflicted insult and he insulted them by saying he won election on the grounds of promising them stomach infrastructure.
"It was a very big insult because what he was saying is that Ekiti people live solely for the sake of eating. That is why stomach infrastructure was a very big insult. And he insulted them for four years; he ran the state down.
"He didn't pay salaries. Altogether, he was a disaster. So, this election was a way of voting Fayose out because I don't think his deputy was the real candidate. In voting out Fayose, Ekiti people have restored their sense of self-respect and we will no longer call them stomach infrastructure state but as a serious people who look at their progress instead of food."
Making sense of Fayose's 'stomach infrastructure'
Ordinarily, "stomach infrastructure" evokes imagery of entrails, comprising the oesophagus, kidneys and intestines down to the rectum in the human physiology. But at Fayose's dramatic reemergence in Ekiti, in 2014, the concept assumed new meaning.
To rout the then incumbent governor, Kayode Fayemi, Fayose leveraged on a culture of tokenism, comprising the seduction of prospective voters with rice, chicken, and a few bank notes.
This was an improvement on his gift of tankers of water to thirsty neighbourhoods months before the 2003 polls, where he similarly secured an electoral upset over incumbent Niyi Adebayo and assumed leadership until his infamous impeachment three years later in 2006.
Having rode to power through the instrumentality of "stomach infrastructure" and enablement by a compromised electoral process and security agencies, Fayose enjoyed the rare privilege of a second chance in power.
Whatever his inadequacies at his first coming in 2003, the brassy governor could achieve redemption, argued pundits. But contrary to notions that the 57-year-old would seize the opportunity to salvage Ekiti through humane governance and progressive policies, he immersed in cutthroat politics.
Few months into his regime, it became difficult to identify who actually was the spokesman of the then ruling party. Miffed by the emergence of then APC presidential candidate, Muhammadu Buhari, Fayose mounted hostile opposition, quoting the scripture, and prophesying Buhari's unavoidable doom.
He vowed that the latter would not live through 2015, due to some debilitating ailment. Fayose sponsored a front page advertisement across major newspapers, suggesting that Buhari would die in office if he was elected president. The advertisement, containing pictures of Murtala Mohammed, Sani Abacha, and Umaru Yar'Adua – past Nigerian leaders who died in office – was accompanied by an excerpt of the biblical book of Deuteronomy, Chapter 30, Verse 19: "Nigeria…I have set before thee, Life and death. Therefore, choose life, that both thee and thy seed may live," it read.
Describing Buhari as 'death' and his rival, then incumbent President Goodluck Jonathan, as 'life,' the advert stated: "Will you allow history to repeat itself? Enough of state burials."
At Buhari and APC's victory at the March 28, 2015 presidential elections, however, Fayose assumed the role of a gadfly, touting himself as a fearless opposition figure cum the nation's conscience. If government had to do with acting, the political arena became his theatre.
The self-acclaimed 'Rock' of Ekiti politics orchestrated absurd drama out of the banal. He entertained the polity with theatrics and what pundits home and abroad described as "megalomaniac" tendencies. While other states attained eminence by giant strides in commerce, agriculture and other indices of economic growth, Fayose led Ekiti to exult in ludicrous politics.
"Until this day, it appears the sole stamp of his second-coming would be the newly built governor's office, and the 1.3 kilometre Fajuyi-Ojumose overhead bridge that cost the state some N6.4 billion. In about three years of his superintendence, the debt profile of the state jerked up to some N56 billion as reported by the Debt Management Office (DMO) in a 2017 bulletin, thus setting backward the developmental clock of the state," argued Nkannebe Raymond, a political analyst.
Crunch politics
At the twilight of his tenure, Fayose sought a successor whose loyalty he could vouch for. He found this in his deputy, the soft spoken Olusola. A man who contrasted him in so many ways.
In the days leading to Ekiti's July 14 governorship polls, Fayose, waxed prophetic and tough, in support of Olusola. During an appearance on Channels TV's 'Politics Today,' the governor bragged about his party and 'anointed' candidate's chances at the forthcoming polls.
He said: "With all humility, before Ekiti people, if I support anybody, whether it is from my household, they will still support that person."
Affecting immense bluster, he continued: "I am telling you; I am more than popular with my people…I've said it severally [sic], I am the first Ekiti son to win and defeat two incumbents in this country at two different attempts. My name is Ayo Peter Fayose.
"Despite all the wars they waged against me, I'm the first Ekiti son to become Governor twice in Ekiti. Seun (the interviewer), it might interest you again that I will be the first Ekiti governor that will have a successor from his own party.
"I'm telling you again, write it down. If APC, if they are mad in the head, their madness will not enter Ekiti o. I heard what they are doing, I am watching them like a bat. I'm like a bat…I am a politician of note. You see, yesterday, I was frying garri (cassava flakes) with some women. Let them also go and meet people now.
"This oyinbo (English) they are speaking all around will never do anything. I don't have time for them. July 14 is almost here. Let them bring INEC behind them, bring Chief of Army staff… I've heard all their planning, you understand. But when you carry fire, the moment it comes in contact with water, that fire will die."
And the 'Rock' melts…
Despite his tough talk, few hours before the election, Fayose experienced the jitters, and he expressed his fears in the most unusual way by shedding tears. The self-acclaimed "Rock" of Ekiti broke down in tears before media men and a global audience.
His attempt to hold a rally against police advice had sparked heavy shooting in Fajuyi area of Ado-Ekiti, the state capital and Fayose reportedly experienced a raw deal from riot policemen while attending to complaints by PDP members over denial of access to the Fajuyi Pavilion, venue of the proposed rally.
Tear gas canisters fired from outside the Government House reportedly landed very close to Fayose, who allegedly inhaled the chemical and collapsed.
At the backdrop of reports that he was revived by security aides and party members, and afterwards taken to the State House clinic, the governor reemerged with a neck brace, to address party members.
"My people, the Lord will fight this battle; the MOPOL of Nigeria Police, IGP and AIG ordered that the governor should be killed.
"I was slapped by a policeman, I was kicked and I was shot at. Be of great courage, be not dismayed, this battle will be won.
"This is an army of occupation. This is not the democracy we fought for. My people, don't be afraid, I pray they will not cause the 1983 problem in Ekiti State.
"Ekiti is under siege. How can I be governor of Ekiti State and they treated (sic) me like this? My people, stand and keep standing. I will go back to the hospital and remain there. I want you to stand by Eleka (Olusola).
Fayose, later got emotional and wept while being interviewed by journalists. He said: "I am in severe pain, I am in severe pain, should anything evil happen to me, the Inspector General of Police should be held responsible."
But Fayose should really be held responsible for the PDP and Olusola's loss, argued a chieftain of the party. Pleading anonymity, he stated that the outgoing governor's "underperformance and antics" cost the party the Ekiti governorship.
Post-election analyses attribute PDP's loss to Fayose's attempt to "rule Ekiti" and serve as the "major voice of opposition" in the country. By assuming such tasking roles, he unwittingly combined two incompatible realities, like unstable atoms in a molecule whose resonance manifests as a blowback.
Fayose's blowhard, undeniably, failed to dull the consequences of a political blowback.
Nonetheless, he looms as an element cum actor chock-full of characters, which is the very essence of his politics. His apologists argue that he is unconcerned with image or personality, hence, his characters seem generalised and typecast.
A more studious glance at his theatrics, however, reveals that the outgoing governor of Ekiti State exploited idiosyncratic experience, often to advantage. He sought to make the personal, or eccentric if you like, universal.
In the huge corpus of his theatre, there was hardly a defined, discernible portrait; experience mutated in the flurry of his antics and coarse presentations. Critics flay him for making a caricature of governance, but loyalists commend his "courage" and "steadfastness" against all odds.
As his tenure draws to an end, speculations abound about Fayose's next act. Will he "reclaim" the PDP's "stolen mandate in court by the power of God." Or will he reprioritise and make good his pledge to become president in 2019?
"I'm going straight to that Villa. I'm the next president," he said, few months ago, in a statement issued by his Special Assistant on Public Communications and New Media, Lere Olayinka.
"I have a penchant for taking powers; that one in President Muhammadu Buhari's hand, I will take it," said Fayose, in a letter addressed to PDP leaders.
The outgoing governor explained that his ambition to be president was without prejudice to the party's position, but in the overall interest of the party and the country.
But that is in the long run. This minute, Fayose sits uneasy amid the lavish trappings of office. Although he is never far from doting courtiers and aides in Ekiti's Government House, springboard of his bizarre, feral escapades, he knows that his time is up. A good number of the electorate feels the same way. (The Nation)