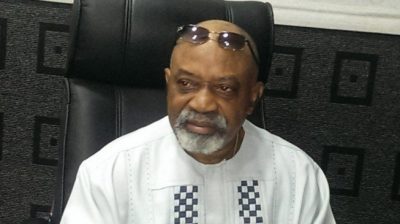 Chris Ngige, minister of labour and employment, says the federal government will revoke the operational licenses of companies who do not treat their staff well.
Speaking on Wednesday at an interactive session with the newly appointed executives of the Nigeria Union of Petroleum and Natural Gas Workers (NUPENG), Ngige said the ministry is working on a reform for the process of granting and renewing recruiters license to labour contractors.
"I thank you for taking interest in job creation in the oil and gas sector and for observing some lapses on the part of labour contractors licensed by the ministry," he said.
"We have started reforming the process of granting and renewing recruiters' license and we will not grant or renew the license of recruiters who compromise by aiding and abetting 'yellow dog' contracts, as any recruiters found abusing expatriate quotas will have his license revoked or not renewed."
Foreign companies operating in the country are bound by law to employ a certain percentage of indigenes as part of efforts by the government to promote local content.
Ngige said this move is in line with the Buhari-led administration's aim to ensure that jobs reserved for the local are not given to expatriates as well as protect indigenous products over foreign products.
"In 2016 despite the shortfall in the oil revenue, the federal government brought both the international oil companies and the workers together to agree and fashioned out ways to ensure that there is no job loss.
"This is something to cheer because all parties agreed and we were able to save jobs in the oil and gas sector. We were never happy when people lose their job because the pressure will always come back to the government.
"Today oil prices have picked up and activities have commenced so we expect new jobs to be created in the oil and gas sector." (The Cable )