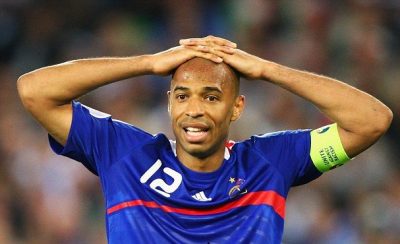 Some football fans in Lafia say they foresee Thierry Henry, a French national and assistant coach of Belgian National Football team team, finding himself in a dilemma as France and Belgium lock horns Tuesday in one of the semi final encounters in the ongoing FIFA World Cup competition in Russia.
They expressed their feelings in separate interviews with News Agency of Nigeria (NAN) in Lafia on Monday.
NAN reports that Henry is a retired French footballer who was part of the victorious french team that won the World cup tournament in 1998.
One of the fans, Olukunmi Gideon, told NAN that Henry's situation was quite 'dicey' as he has a difficult decision to make on which team to support during the encounter because of his affiliation to both sides.
Gideon said Henry's best bet is to remain neutral and focus on his job as assistant coach, but added that pretending to be emotionless would be difficult for the former football great.
"He will suffer emotionally; nobody prays to be in this kind of situation; he wont want to be seen supporting Belgium against his home country and he cannot be with Belgium and be openly supporting France.
"Its a dicey one for him and I pity him; it is going to be 90 minutes of hell for him. If France wins, he cannot celebrate; it is the same if Belgium wins.
This is not just any match; it is the semi finals of a world cup competition, where footballing countries dream of playing in. I pity him," he said.
Aliyu Danbaba, another football fan, wished if it were possible for Henry to stay away from the venue of the match and watch it in privacy, where he would be free to express his emotions, instead of hiding his true feelings out of respect for both countries.
"For me, Roberto Martinez, the head coach of Belgium, should allow Henry to stay somewhere else and watch it alone because it wont be easy for him.
"If Belgium scores and eventually win, will he (Henry) sit and not join the celebration? lets be practical here. He is a human with emotion," he said.
One his part, John Akpana suggested that the organisers of the World Cup, Federation de International Football Association (FIFA), should limit focus on Henry during the encounter.
He also urged both teams and nationals of both countries, to show understanding for Henry's precarious situation, adding that doing so will make Henry a little bit relaxed and comfortable during the match.
"Everybody must understand that it is not Henry's making that his home country and the team he currently works for, should meet at any point in this tournament, so everyone must be sensitive and show understanding," he said.