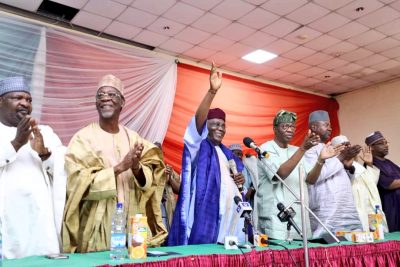 Former Vice-President Atiku Abubakar has promised to end the Boko Harman insurgency if elected president.
Speaking in Maiduguri, Borno state capital on Tuesday, the Peoples Democratic Party (PDP) presidential aspirant said he has what it takes to defeat Boko Haram.
He criticised the manner in which the current administration has been fighting insurgency, vowing to use a better approach.
"Since the year 1999 when I was elected the Vice President of Nigeria, I knew Borno, Yobe and Gombe states were under the government of the defunct All Nigeria Peoples Party (ANPP)," he said.
"But if you consider the appointments that these three states enjoyed from the federal government, (they) were much higher than the ones given to other PDP states.
"And the reason for that is not far-fetched; it was so because one of your own was in the position of authority. So you all must not lose memory of that fact.
"It is now more that nine years that this part of the country is facing the problem of insecurity, and our socio-economic sphere has been injured as a result of that.
"Today our schools and our healthcare system are not functioning; our youth are roaming the streets jobless; yet there is a government in place. We must also recall that this is the same Nigeria whose security forces had been able to fight a civil war and keep the country united in just about two years and six months only. And most of the soldiers that fought on the side of Nigeria are from the north.
"But here we are sweating to end an insurgency that is mostly domiciled in just two states, Borno and Yobe; and we cannot even see its end in nine years. This is unacceptable. There is no way I can tolerate any security chief that will come and inform me that he cannot end this war in three years. Such security chief will not last the next day on seat.
"I swear in the name of God that the service chief must go.
"I was flying about 35,000 feet over Borno and Yobe states few hours ago, and all I could see were nothing but open plain lands; yet someone on ground will be telling me that he cannot see where Boko Haram insurgents are.
"I hereby promise you all that should I be elected as president, the issue of insecurity will become a thing of the past. I know there is insincerity in the management of the country's security.
"This is the time for us to wake and forge a common front in our struggle to salvage our children and grand children from future calamity by supporting our cause."