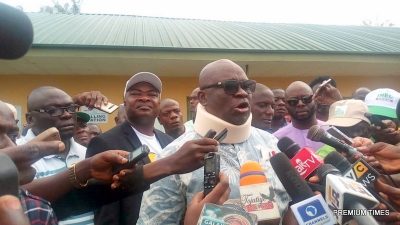 An undaunted Ayodele Fayose, governor of Ekiti State, has said he will not abscond from Nigeria when his immunity from criminal prosecution elapses in October.
"He is not afraid of anything. What are they going to do to him. Is EFCC the court of law?" Mr Fayose's spokesperson, Lere Olayinka, told PREMIUM TIMES Sunday night, disclosing that he had talks with the governor over his future without immunity within the past 24 hours.
Mr Fayose, of the Peoples Democratic Party (PDP), is slated to hand over power to Kayode Fayemi, who flipped Ekiti State to the All Progressives Congress (APC) in Saturday's governorship election, on October 16.
Mr Fayemi defeated Kolapo Olusola-Eleka, Mr Fayose's deputy and PDP's candidate, to reclaim the only South-west state held by PDP.
The state was APC until 2014 when Mr Fayemi, then governor from 2010-2014, lost his first reelection bid to Mr Fayose.
Mr Fayose won the June 2014 election in a landslide, defeating Mr Fayemi in all the 16 local government areas of the state.
Mr Fayose's status as a PDP heavyweight quickly shaped up, especially as the only PDP governor in the Yoruba part of the country. He was later joined by then-Ondo State Governor Olusegun Mimiko, who defected to the PDP from Labour Party in October 2014.
Mr Mimiko, whose two-term tenure expired in February 2017, returned to the Labour Party last month, saying his political future and principles no longer align with what the PDP has become since losing the centre in 2015 after 16 years.
This again left Mr Fayose as the only governor on the platform of the PDP, and he was widely expected to maintain the grip until his populist appeal failed to elevate Mr Olusola-Eleka as his successor.
Mr Olusola-Eleka won in four local governments while Mr Fayemi won in 12 local governments.
Shortly after the election result was announced on Sunday, insinuations filtered that Mr Fayose may flee the country to avoid possible criminal charges as soon as he hands over to Mr Fayemi in three months' time.
Other critics of the governor were even more brutal, saying he had concluded plans to hand over to his successor and flee the country days before his tenure expires. Hours after Mr Fayemi was declared winner, the anti-graft EFCC posted a tweet threatening to exhume Mr Fayose's alleged poultry scam case.
Mr Fayose was removed from office on allegations that he looted funds meant for poultry farming in 2006. He was being prosecuted for that scandal and other similar cases of infractions which EFCC linked to while in office at the time.
The EFCC was criticised for the statement, which was taken down a few hours later. The agency, however, clarified later that the matter was never dormant, saying prosecution only stopped because Mr Fayose became a governor.
Mr Olayinka said there was no way the EFCC would be able to pin anything on his principal, whom he said would be willing to turn himself in after leaving office.
"Since 2015 that they started talking about Sambo Dasuki, how many Nigerians have they convicted?" Mr Olayinka said. "That was how they lied that the governor had a property on Gana Street in Maitama and nothing came out of it."
Mr Olayinka said Ekiti has been "under siege" since the electioneering kicked into full gear two weeks ago in the state, a situation he said persisted even after the federal government had its favourite person as winner.
"The governor will hand over when the day comes in October," Mr Olayinka said. "And if it is necessary that he should go to the EFCC for questioning after leaving office, he will go and meet them."
A spokesperson for the EFCC, Wilson Uwujaren, did not immediately return PREMIUM TIMES' request for comments, Sunday night. (Premium Times