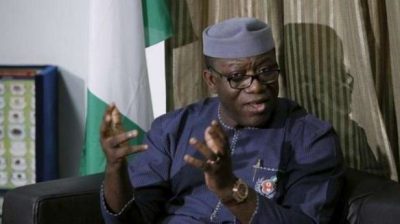 Kayode Fayemi, governor-elect of Ekiti state, has described his victory in Saturday's governorship election as one for reclaiming the land and restoring Ekiti values.
Fayemi spoke on Sunday while addressing reporters in Isan-Ekiti shortly after he was declared the winner of the governorship election.
"The victory of this election, I believe, is for reclaiming the land and restoring the values of our people," he said.
"Our values in Ekiti are respect for our leaders, commitment to our people, non-brigandage, non criminality and so on.
"This victory is a victory for all, it is not a victory for only Gov. Kayode Fayemi, it is a victory for all the Ekiti people."
Fayemi also described his victory as significant to the future of democracy in Nigeria.
"It was not just an Ekiti election, I want people to understand that this election has a lot of significance to the future of democracy in Nigeria.
"The fact that we have witnessed a free, fair and transparent election process has huge importance for similar exercises like Osun state next door to us and eventually the national elections in February 2019."
The governor-elect thanked all the APC leaders, including President Muhammadu Buhari; Bola Tinubu, a national leader of the APC; Segun Osoba, former governor of Ogun; and Bisi Akande, former interim chairman of the party.
He also thanked his family members, especially his wife, Bisi, for their support during the election campaign. (NAN)