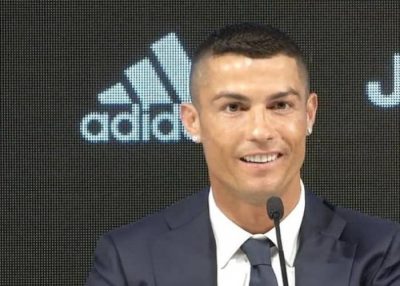 Cristiano Ronaldo said he is not obsessed with winning the Champions League but acknowledged he joined Juventus partly to help them claim the title for the first time in more than two decades.
Ronaldo has won the competition five times, including in each of the last three seasons with Real Madrid, and while Juve have reached the final twice in the last four years, they have not won it since 1996.
"I don't see the Champions League as an obsession," Ronaldo said at a news conference on Monday. "As the president has told me, it's not an obsession but a dream. I'm here to help Juventus make it come true. It's possible."
Madrid beat Juve in the final in 2017, and their rematch in a quarterfinal tie last season was punctuated by an acrobatic overhead kick that gave them a 2-0 lead in the first leg at the Allianz Stadium.
The majority of those in the arena rose from their seats to acknowledge what they had witnessed, and Ronaldo said that ovation made him think about a move to Juve.
"I remember that goal, against 'my' club," Ronaldo told Sky Sport Italia. "I remember I was very happy, not just for having scored, but one detail which made a difference was how the fans applauded me, and that was a surprise. I didn't expect it.
"I already liked this club, but after that moment, I liked it even more so. Juve are a great club and they've given me a great opportunity, so I don't think [signing] is just down to that goal, although it certainly helped. I told my agent that the only club I would leave Real for was Juventus."
Just a few days later, Ronaldo's agent, Jorge Mendes, relayed that news to Juve sporting director Fabio Paratici, although he doubted a deal could be struck.
"During the week, we spoke with his agent and he said, 'You know, he was touched by all that attention he received — he was so touched that, one day, he'd like to come and play for Juve,'" Paratici told Sky Sport Italia. "I just said, 'Sure, I get it. There are plenty of dreams but not many come true.'" (AFP)