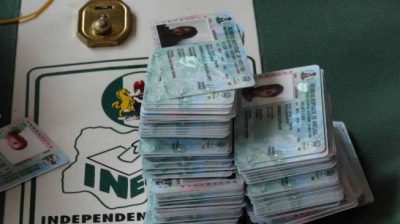 The Independent National Electoral Commission (INEC) says it will commence systematic hardware and software upgrade of all its smart card readers nationwide by next week.
The commission disclosed this through Oluwole Osaze-Uzzi, its director, voter education and publicity.
According to Osaze-Uzzi, the planned upgrade is to protect the tools from unauthorised and malicious access.
He said INEC had received reports of attempts to clone its permanent voter cards (PVCs) and sell them online.
Checks done by TheCable at midnight on Sunday showed that the PVC is available for sale on Chinese e-commerce website, Alibaba.
The supplier of the PVC is listed as Hangzhou Dingxin Technology Co Ltd.
"We wish to assure the public that the commission had anticipated these and proactively taken measures to preserve and further secure our electoral materials," Osaze-Uzzi said in a statement.
"Several security features and secret source codes are contained in the smart card readers which enable them to read only PVCs duly issued by the commission."
Osaze-Uzzi said the advertisement showed photographs of blank cards which have not been personalised and which did not contain any details.
"This notwithstanding, the commission wishes to state that it takes these reports seriously," he said.
"INEC will engage the government and security agencies as well as the promoters of the platform in order to get to the root of it and take all necessary action to take down the advertisement forthwith.
"In addition to the existing features, the commission is already working to further secure the PVCs and the smart card readers and will continue to protect them from unauthorized and malicious access.
"It is for this reason that, beginning from next week, we are commencing the systematic hardware and software upgrade of all the smart card readers nationwide."
Osaze-Uzzi said the enhancement had already been successfully done in Ekiti and Osun, preparatory to the upcoming governorship elections in both states.
"We wish to reassure the public that our systems are robust even as we continue to fortify them ahead of the 2019 general election," he added. (NAN)